Hua Hin Night
Market - Day 1
The Hua Hin night market should be on every visitors' itinerary but although I had visited Hua Hin a couple of times previously, I had never been to the night market.
So after getting changed and locating the general direction on the tourist map, we set out to see what all the fuss was about.
---
Use the Power of Agoda to find Great Deals on Bangkok Airport Hotels
Whether you are arriving or departing from Suvarnabhumi Airport you are bound to need an Airport Hotel.
Use the powerful search function to identify the best choice and make a booking TODAY.
---
Explore the Hua Hin Nightmarket
It was just a short walk from the hotel and the night market was in full swing when we arrived.
The night market occupies two streets that are closed to traffic and there are loads of places to sit and eat in this general area.
Street food is something that is to be tried when you come to Thailand, it is quick, hot and fresh and is not to be missed.
The two streets include a mix of outdoor seating at bricks and mortar restaurants, right down to eating at a foldaway table where the cooking equipment is transported on carts every afternoon.
Take your choice.
The little red foldaway tables and blue plastic chairs are synonymous with Thai street food stalls and we selected a place to sit and ordered noodles. I think we were still pretty full from the lunch on the beach and didn't need anything substantial.
The noodles and drinks cost 90 Baht and were quickly consumed. Generally in these places, just like at the beach you pay when you leave.
This can even be the case where you order at a counter. I have to admit it is not always clear, when or who you have to pay.
After eating we sauntered through the rest of the Hua Hin night market just browsing the stalls, when we came upon a guy mixing cocktails to the beat of the latest electronic music.
He seemed to be really enjoying his work and for 100 Baht a cocktail it was worth a try.
I can't recall exactly what was consumed, but it was probably a Mai Tai and a Pink Lady to start off with.
He had a steady stream of customers sitting on the seats in front of his small bar and he was also preparing cocktails for the customers of the seafood restaurant at the back of him.
It was quite interesting to watch as he created artistic presentations of multilayered cocktails all to the beat of the music.
Sitting somewhere like this is a great way to meet people; everybody is out to have fun and open to have a chat. After finishing the cocktails and paying up we left to continue walking through the rest of the market.
It was just before Christmas and the Hua Hin night market was full of Thai holiday makers and families with their young children, mostly just window shopping and checking out each of the stalls to see what was on offer.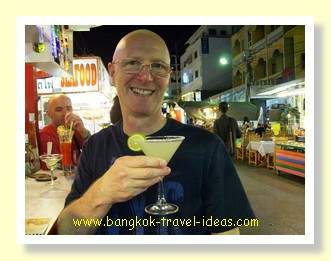 This was not the only time we visited the Hua Hin night market so look out for more photographs.

Daily Expenditure
Fuel/Transport 1200 Baht
Food and Drink 1400 Baht
---
If you are interested in staying at Hua Hin or Cha Am you can review this link to Agoda Hua Hin Hotels or you can read more of my Hua Hin holiday blog below.

Hua Hin Railway Station and Wat Hua Hin - Day 2
Visit Hua Hin Railway station and see the well preserved buildings.

Hua Hin Cicada Market - Day 2
Take a walk around the Cicada Night Market on the weekend and browse the stalls with local art and gifts for sale.

Hua Hin Floating Markets - Day 3
Thailand is famous for its floating markets and no more so than the two re-creations just outside Hua Hin. Visit Hua Hin Floating Market and Sam Pan Nam Floating Markets to see life as it was in days gone by.

Wat Huay Mongkol - Day 4
The largest statue of Luang Phor Thuad is located at the back of Hua Hin just 40 minutes from town. Sneak out into the countryside; look for the bullocks ploughing the fields alongside the river.

Hua Hin Market Village and Nightlife - Day 5
Need to do some grocery or gift shopping? Then head on over to Hua Hin Market Village where they have all your needs. In the evening check out the range of beer bars just at the back of the Hilton Hotel for a quick game of pool and some casual eating.

Hua Hin Relaxation - Day 6 and 7
A holiday is meant for relaxing and it is good to have some time out and take it easy.

Leave Hua Hin - Day 8
Everything comes to an end and ultimately it means returning to Bangkok.

Bangkok Seacon Square- Day 9
Catch up with an old friend and go for a seafood dinner in Bangkok near to Seacon Square.

Christmas Day in Bangkok - Day 10
Is Christmas Day in Bangkok any different to your Christmas Day?

Nakhon Ratchasima - Day 11 to 14
Travel to the central town of Nakhon Ratchasima and visit the close by attractions of Phimai and Khao Yai National Park; wander the narrow streets or take a ride in an old style sarm-lor.
---