Klang Bueng Restaura
nt - Day 9
Today I fancied some Bangkok seafood at Klang Bueng Restaurant, but first this was a day to relax and catch up on my emails and internet stuff.
Having returned to Bangkok from Hua Hin I just needed to take it easy for a while.
---
Use the Power of Agoda to find Great Deals on Bangkok Airport Hotels
Whether you are arriving or departing from Suvarnabhumi Airport you are bound to need an Airport Hotel.
Use the powerful search function to identify the best choice and make a booking TODAY.
---
Lunch came from the local noodle shop and cost 70 Baht for two people.
In the evening I had a plan to have dinner with my friend and take him his little pottery present that I had picked up in Hua Hin.
This was where the seafood came in.
Taxi to the Thai Restaurant
Towards 5:00pm I took a taxi to Seacon Square. The taxi driver took me to the front of the mall, so my Thai must have been understandable.
Taxis are not expensive in Bangkok and this ride cost 50 Baht plus a 10 Baht tip.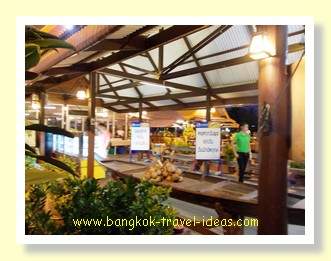 Whenever you take a taxi in Bangkok, first open the door and tell the driver the destination.
If he agrees, get in and make sure the meter gets turned on.
Closer to the tourist areas, some drivers prefer to negotiate a flat charge.
It will always be cheaper using the meter, so make sure the meter always gets turned on.
If the driver refuses your fare then don't be hurt or angry, just wait for the next taxi.
There are many reasons that they may not want to go to your destination, so don't take it personally; it happens to Thais as well.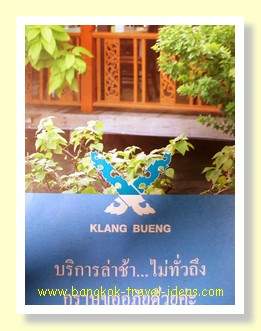 Because I arrived too early at Seacon Square I walked around the shopping mall and ended up in the DVD shop where I purchased something interesting for 35 Baht.
My friend was running late because of the traffic but eventually turned up at around 6:30pm.
The restaurant was located in the street parallel to Seacon Square and was just a few minutes walk away.
Klang Bueng restaurant is located adjacent to a small lagoon well back from the main road so it is in a good spot and not noisy at all.
Being Christmas Eve it was packed with office Christmas parties celebrating the end of year.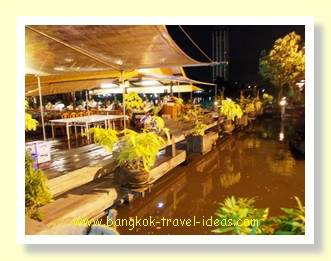 If you get a chance to go to this Klang Bueng restaurant then ask for a seat outside next to the water.
No doubt during the evening one of the guests will go to feed the fish and you will get to see some really large fish as they congregate and try to get to the food.
I have been to this restaurant a couple of times, the food is really good, not expensive and it is in a great location.
As old friends do, we swapped stories of what we had been up to since we last met and what our future plans were.
With not too many drinks under out belts we swapped Christmas presents, paid the bill and headed home about 10:00pm.
It had been a good evening out at Klang Bueng restaurant.
Fuel/Transport 60 Baht
Food and Drink 1400 Baht
---
If you are interested in staying at Hua Hin or Cha Am you can review this link to Hua Hin Hotels or you can read more of my Hua Hin holiday blog below.
Christmas Day in Bangkok - Day 10 
Christmas Day in Bangkok any different to your Christmas Day? 
Nakhon Ratchasima - Day 11 to 14
Travel to the central town of Nakhon Ratchasima and visit the close by attractions of Phimai and Khao Yai National Park. Wander the narrow streets or take a ride in an old style sarm-lor.