Go to
Hua Hin - Day 1
If you are leaving Bangkok to go to Hua Hin during the week, bear in mind that even though you are on vacation, for most people it is a likely to be a regular work day and the normal rush hour traffic period is something to be avoided.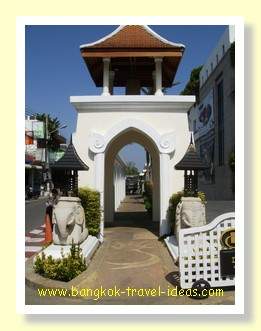 The rush hour in Bangkok can extend from 7:00 am to 10:00 am, so we ended up leaving around 10:00 am to miss the worst of the Bangkok traffic.
Today's plan was to go and stay at the Hilton Hotel, located in one of the most famous of Thailand's seaside towns.
Situated about 3 hours south of Bangkok, the Royal city of Hua Hin and the nearby city of Cha Am tempt many travellers and tourists from around the world and either place is a worthwhile addition to your Bangkok vacation.
Both Hua Hin and Cha Am are close enough to go for just a few days or even the weekend.
If you don't have your own vehicle you can take a van from Victory Monument.
Drive to Hua Hin
With bags packed and car loaded, a nice leisurely 10:00am start should have nicely missed most of the traffic, or at least that is what the thinking was.
Unfortunately a series of mishaps and accidents meant a 30 minute wait in slow traffic as we negotiated around a truck full of water that had veered into the Dao Khanong barrier on the expressway.
It seemed like no one was hurt, as the truck driver was helping unload all the bottles of water into the recovery vehicles and the boys in brown were doing a good job of marshalling the traffic.
Having passed this truck, then no more than one kilometre further on, there was another pickup truck with a broken axle. Luckily he was pulled over to the side of the road and was not causing an obstruction.
Funnily enough he was carrying water as well. Obviously the vehicle could not take the weight of his cargo. Perhaps today was not such a good time to go to Hua Hin.
But as they say, things come in threes and sure enough no more than another five kilometres had passed and we came upon on one of those 12-seater minivans just stopped dead in the outside lane of the expressway.
It must have just happened as there was very little traffic caught behind him. But this is the sort of thing that can delay traffic significantly and we were lucky to miss the impact of this breakdown as it was surely going to get worse.
After these incidents the road was pretty clear and apart for a stop to get some ice cream and have a toilet break the rest of the journey to Hua Hin was uneventful.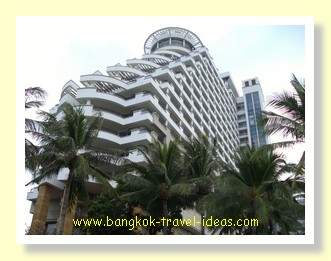 Once out of Bangkok the road is of good standard and well signposted.
In fact it is almost a straight road, so if you are up for it then there should be no reason why you could not drive yourself.
You still need to keep your wits about and adopt a defensive driving technique as people are apt to do the most unusual things.
The main hazard is the various U-turn bays used for vehicles to cross from one side of the dual carriageway to the other and the trucks that make a wide arc as they U-turn.
These bays are well signposted and for good reason, so take care when you approach as the roadway is dotted with white paint markings of previous nose to tail accidents.
Like Australia, New Zealand and the UK, Thailand has adopted the left side of the road to drive on.
This however is only advisory and you should expect other vehicles, especially motorbikes, to be travelling towards you in your lane; so try not to hit them.
Accommodation in Hua Hin
Hua Hin has a vast array of 5 star accommodation, but before you go to Hua Hin take a moment to check the location on the map before booking your hotel, as some of the resorts are located well out of the main town.
For example the Hilton Hua Hin is located right in the centre of town and the Dusit Thani Hua Hin Hotel is 11 kms out of town and the Devasom Hua Hin Resort a little more.
Being further out of town in your own location may be just what you are looking for.
The Devasom Huahin Resort is perfectly located for both business and leisure guests in Hua Hin / Cha-am and can be booked directly with Agoda.
Check out more guest reviews and hotel details for the Devasom Hua Hin Resort at Agoda.
The Dusit Thani is a self contained resort and so is fine if you have your own transport or don't want to leave the resort too often, but not ideal if you wanted to walk around the Hua Hin night market in the evenings.
Some of these further out hotels rent out bicycles for guests so they can get out and about and we did see a middle aged couple cycling towards Hua Hin town as we passed by the Hua Hin airport.
There are lots of accommodation choices available but if you go to Hua Hin you should check out the two international hotels located right on the beach front in the centre of the town.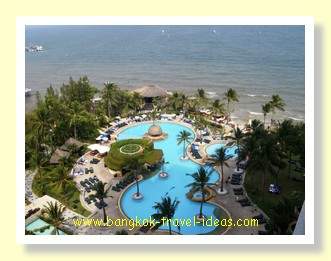 These hotels are ideal for those who like to leave the confines of the resort and walk around the streets to experience local life.
One hotel is the Centara Grand Beach Resort and Villas and the other the Hilton Hua Resort and Spa.
Both hotels have a range of room options to suit your budget.
The destination today was the Hilton Hua Hin Resort and Spa and after driving for about 3 hours we arrived at the reception and parked the car in the underground car park.
The check-in procedure was fairly painless and we were quickly shown to our room located on the 7th floor by the front desk attendant.
The room had commanding views of the bay area and looked down onto the swimming pool; the balcony was just an ideal size to relax on whilst looking over the pier and small shops down below.
Hua Hin Beach
In late December the fresh sea air was certainly fresh and with some cloud cover the temperature was probably in the low 20's Celsius.
Anyway it was lunchtime, so after a quick clean up it was off to get some Thai food.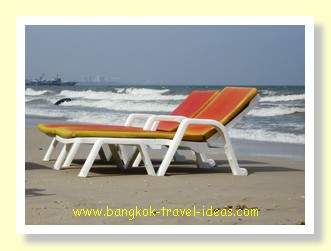 When you go to Hua Hin you will find there are lots of places to eat, but one of my favourite places is to go down to the beach and just eat on the water's edge under the beach umbrellas.
Here you can get a selection of seafood and an assortment of Thai food from the vast array of food vendors in this location.
As you walk onto the beach each of the vendors will try and entice you onto their deckchairs and there is really no reason to choose one over another.
We selected somewhere that had good shading from the umbrellas and got ready to order. Other people were reclining in the sun on Bangkok beach chairs.
A quick look at the menu and a selection was made. The choice was fried rice with crabmeat (khao pat bpoo), tom yam goong (spicy Thai soup with prawns), somtam prik har met (papaya salad with 5 chillies), 1.25L bottle of Coke and a bucket of ice, all for 780 Baht.
You get to pay a premium for the beach location and the fact that you are in a tourist location, so it is not cheap by Thai standards, but then at around $21 for two people it is not expensive either.
Some people don't like the closeness of the deckchairs and would prefer more space. But it is a typical Thai beachside configuration to have deckchairs laid out in groups and the umbrellas interlaced so no sun comes through.
Even though it was just before Christmas the seating was only about 30% occupied.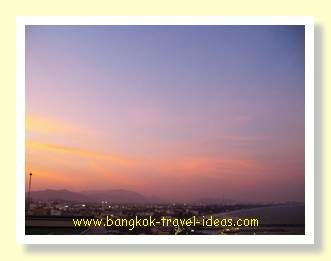 The afternoon was spent eating and just watching the waves roll in and listening to them crash on the shore. There is probably nothing more relaxing than this sound as you drift in and out of sleep.
From time to time vendors came by with various things to eat. I was pretty full from lunch but there is always room for ice cream and 70 Baht for a Magnum didn't sound too bad.
Buying it on the beach saved me walking back to the 7-11 store.
Later in the afternoon we headed back to the hotel and set about unpacking, before relaxing on the balcony and watching the sun set over the town of Hua Hin and gradually dipping down over the distant hills.
The advantage of the Hilton Hotel is that it is a high-rise hotel so you do get the opportunity of some magnificent views the higher you go.
If you are planning to go to Hua Hin or Cha Am you can review this Agoda link to all Hua Hin Hotels to decide where to stay.
---
There is lots more to do when you go to Hua Hin so continue to read my Bangkok Travel diary entries below.
Hua Hin Night Market - Day 1
When you go to Hua Hin take some time to explore the Night Market. Eat at the Railway Cafe and have some freshly barbecued seafood or just relax and whilst you sip on a freshly mixed cocktail, to the sound of modern beats.

Hua Hin Railway Station and Wat Hua Hin - Day 2
Go to Hua Hin Railway station and see the well preserved buildings and take some photographs standing on the station platform.