Bangkok to Koh Samet
Travel from Bangkok to Koh Samet by car or take the bus from the Ekkamai bus terminal, it's up to you.
Koh Samet makes an ideal beach location to travel to for a long weekend, or if you feel you need to get out of Bangkok for a few days. 
Bangkok to Koh Samet
If you are looking for islands near Bangkok and some of the best Bangkok beaches then one of the closest islands is named Koh Samet
The drive to the nearby town of Ban Phe only takes about 3 hours by car and is quite easy for even a novice driver.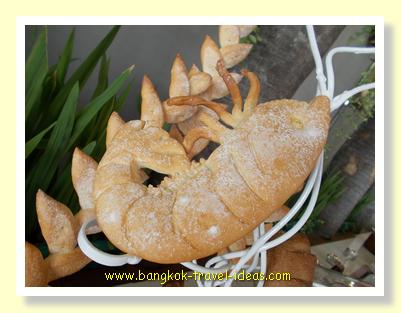 Take the Route 9 expressway to Suvarnabhumi Airport then you just continue on that road.
Continue on and go past the airport, then past the Pattaya turn off, before rejoining Sukhumvit Road, when you see the sign for Koh Samet.
Once on Sukhumvit Road you will see signs for Koh Samet and Ban Phe and then look out for a right hand turn at the traffic lights. 
When you do eventually turn off the main Sukhumvit Road, then it is likely that you will be greeted by a motorcycle escort to take you into the town of Ban Phe.
If it is your first visit, it is probably worthwhile asking them how much to show you to your destination as it is much easier than trying navigate yourself.
There are a few twists and turns to the road and there are several piers that boats leave from.
For those staying at any of the Samed Resorts then you will be able to park your car at the Seree Ban Phe pier just behind the main office, for the length of your stay.
The Samed Resorts office is quite noticeable and has a large sign set back off the roadway.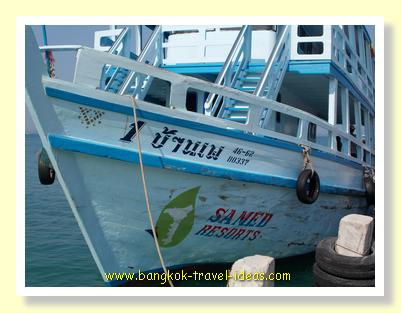 If you don't come by car and decided to get the bus, then it is just a short walk from the bus station.
Buses leave the Ekkamai Bus Station every hour and take about 3.5 hours to complete the journey.
I would suggest that you get to the bus station by 7:30 am as you may find the first bus is full and you have to wait for the next.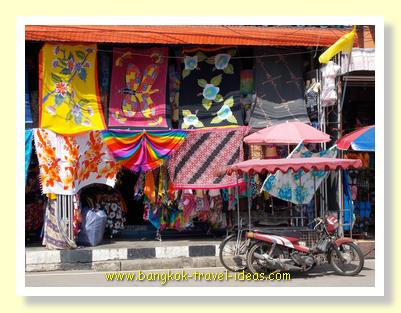 Try and aim for the ferry that departs to Koh Samet at 13:30pm and if you do get to Ban Phe early you can browse through the local market stalls or get something to eat.
Bangkok to Koh Samet Travel Times
How long does it take to get to Koh Samet?
By Car / Van approx. 3 hours
By Bus approx. 3.5 hours
I explain the detailed travel options of how to get from Bangkok to Koh Samet in greater detail at this link.
Ferry Timetable to Koh Samet
Book the Sai Kaew Beach Resort and they include a free ferry ride to Koh Samet which is going to take around 30 minutes sailing time.
The ferry times are below:
Seree Ban Phe Pier:
11:00 am / 1:30 pm / 4:00 pm

Ao Klang Pier:        
10:00 am / 12:30 pm / 3:00 pm
Ensure you are at the booking office 30 minutes prior to allow for booking procedures to be completed.
If you want to go from Bangkok to Koh Samet and stay on the island for a few days then Sai Kaew Beach Resort is a good affordable choice.
Don't thing this is your only choice as the Samed group has a range of affordable hotels on the island to choose from.