Centara Grand Mirage Beach Resort -
Day 1
The check-in procedure at the Centara Grand Mirage Beach Resort was fairly smooth and they accepted my Thai Airways hotel voucher without question.
Centara Grand Mirage Arrival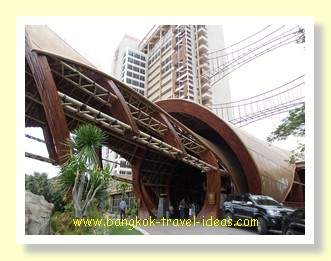 After being allocated a room on the 4th floor we took the lift and luggage up to the room.
The lifts require you to swipe your room key before selecting your floor and this helps stop unauthorised people going up to the room levels.
It is a good security feature.
Whilst there are different room options at the Centara Grand Mirage Beach Resort the good news is that all rooms face the ocean.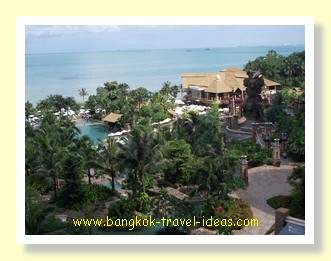 Our allocated room was a family room with two double beds.
Centara Grand Club Mirage with Ocean View
The shower and washbasin were partitioned off with a curtain and there was a toilet in a separate room near the door.
I think that the room was probably a "Club Mirage with Ocean View" room after looking it up on the Agoda website.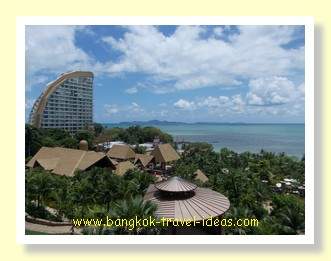 The room decor was in keeping with the "Lost World" theme of the resort with a large patterned wall over the bed head.
Out through the sliding doors was a small balcony.
From here we could look out over the ocean and see Koh Lan in the distance to the left and to the right I could see the ships queuing up to unload at the main port of Laem Chabang.
Even from the 4th floor of the Centara Grand Mirage Beach Resort there was a really good view of the surroundings, although I imagine that the higher floors had an even better view of Pattaya Bay and over to Koh Lan.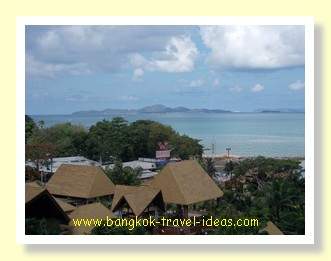 Looking around, it was possible to see that the hotel complex spread out beneath us and the landscaped gardens meandered their way to the ocean, interspersed with swimming pools and water slides that comprise the beachfront water park.

Pool and Water Slides
The thing that separates the Centara Grand Mirage Beach Resort from most other hotels in Pattaya is that it is truly a resort and not just a hotel with a swimming pool like most of the other Pattaya hotels.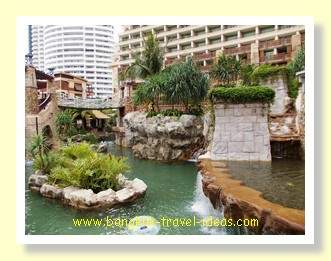 In fact the Centara Grand Mirage Beach Hotel prides itself on being the only 5-star themed resort with direct access to the beach.
In Pattaya there are very few hotels with direct beach access so this is a plus.
Everyone was keen to try out the water slides and so we quickly got changed into swimwear and plastered ourselves up with sunscreen and took the lift down to the ground floor.
At check-in we had been given four cards to claim our beach towels down in the pool area.
When you have finished with your towel you just take it back and reclaim your card.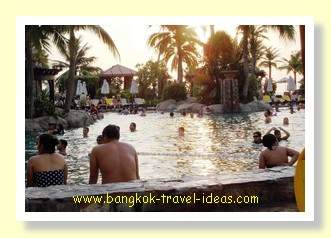 This is a simple little security measure as anyone who does not have a bright yellow towel is probably not a guest and shouldn't be there.
The use of a yellow towel is especially relevant down on the sun loungers on the private beach area as the public could just wander by and plonk themselves down.
So whilst it might seem inconvenient to have to look after this card, it does at least put a stop to a lot of that sort of thing.
There is an 800 baht deposit on each card to encourage you to look after it and presumably so that you return the towels after use.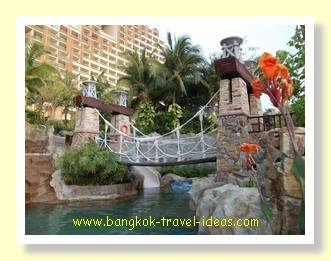 We collected our towels from the attendant, told him our room number and selected some pool chairs in a good location.
Many smaller hotels do not have enough chairs for guests but there were many sets of chairs available and no problem in getting four together.
The rest of the afternoon was spent going up and down the water slides, exploring the maze of waterways and floating on the large rubber rings that were available.
This place is just ideal for children that love the water.
After swimming for a while we came back to the poolside chairs to dry off and relax in the sun.
We ordered a couple of drinks and some food from the poolside waiters and just chilled out.
The umbrellas had a little buzzer to press to call for service, so that saved us getting up and finding someone.
I thought that this was pretty handy really and a great lazy way to spend an afternoon. 
If you like the sound of the Centara Grand Mirage Beach Hotel, then you may be able to get a great room price at the Agoda website. 
Continue reading my Thailand Travel Diary to find out what happened when I experienced Pattaya nightlife or just continue reading about my visit to Pattaya, Thailand in my Thailand Travel Diary, by following the links below.

Pattaya Floating Market - Day 2
See what happened when we had a real Thai day out and visited the Pattaya Floating Market on Sukhumvit Road just outside Pattaya. 

Sanctuary of Truth (Prasat Sut Ja-Tum) - Day 3
My experience of visiting the Sanctuary of Truth is incomplete, but here you can find directions to this wonder of the world and a brief over view of a special Thailand folly, for the next time you visit Pattaya.

Pattaya Beachfront Restaurant Rim Talay - Day 3
Wong Amat beach is located to the North of Pattaya and here you can go dine on Thai food at Rim Talay restaurant, overlooking the ocean.
Lunch time or evening time under the stars; take your pick.

Pattaya to Bangkok Airport - Day 4
My Bangkok vacation has come to an end and it is now time to travel back from Pattaya to Bangkok Airport and take the return Thai Airways flight home.