Pattaya to Bangkok Airport 
My Pattaya to Bangkok Airport return was scheduled today.
The hotel check out time was 12:00 pm but I requested a late check out and was told that we could leave at 13:30 pm.
The Thai Airways return flight was not until 19:30 and so this gave us ample time to make the drive back from Pattaya to Bangkok Airport.

Pattaya to Bangkok Airport
The rain from last night had really cleared the air and Koh Larn looked close enough to touch.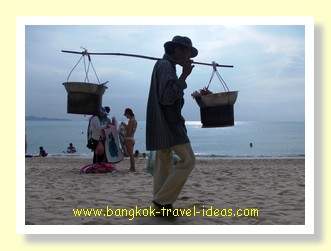 The sun was out and as we had the whole morning free we spent it having a great time on the water slides and floating along the "Lost World" river and just sitting on the beach.

As it got towards lunchtime we all headed back to the room to get changed and pack our things.
I collected the four beach towel cards and put them in my pocket.
Once everything was packed we went to check out and as I got down to the lobby I found that now I only had three beach towel cards.
How can that happen, they were all there a minute ago, all in the same place?
If you don't return all the beach towel cards then there is a penalty of 800 Baht; presumably because they are missing a towel.
Anyway a scout went to retrace our steps to the room whilst we all waited downstairs and fortunately the card was located in the room.
Funnily I recall making an acrobatic movement, balancing some things in my hand whilst bending awkwardly to put something in the bin and that must have caused a card to be ejected from my pocket.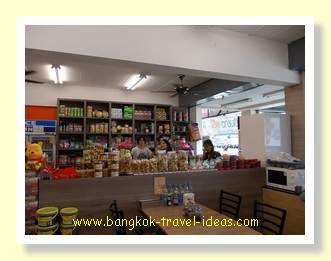 So this was the holiday that started with me losing my mobile phone and ended with me losing one of the hotel beach towel cards and now we were ready to make the trip from Pattaya to Bangkok Airport.
Like the man putting the plastic bag over the spotlight in the rain, providence must have decided to look out for me.
During the check out there was very little to pay, as we had only had some food and drink around the pool area and the rest of the time had eaten elsewhere.
The trip back to Suvarnabhumi Airport was uneventful.
We stopped again at the motorway service station to get some lunch and fill up with fuel.
We also got some gifts for those people that stayed behind and were not fortunate enough to be able to come with us to Wong Amat beach in Pattaya.
Review of Centara Grand Mirage Beach Resort
Did we have a good time in Pattaya?
In fact we had a great time, having 4 days, 3 nights in the Centara Grand Mirage Beach Resort at Wong Amat beach in the Naklua district of Pattaya City.
What did I think of the hotel?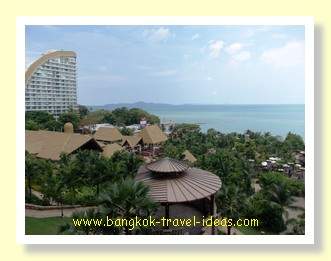 The room was an adequate size considering it had two double beds in it.
Even though we were on the 4th floor there was a great view out over the Bay, and all the rooms have great views.
We didn't have breakfast or dine in so I can't comment on that aspect.
But we really enjoyed the features that the water park offered and that the hotel is right on the beach.
One feature that people without children may enjoy is that near to the beach is another pool that is dedicated as a "child free zone".
Here you can read your book or take a swim without that piercing screaming that often comes from children having fun. 
In that regard the hotel really caters to all types of visitors.
My overall experience of the hotel and the staff was positive and if I got the opportunity I would surely stay there again.
You can explore more traveller reviews or make a booking at the Centara Grand Mirage Beach on the Agoda website.
This is the last page of my Pattaya Travel Diary as we travel back from Pattaya to Bangkok Airport.
Feel free to return to my Bangkok Travel Diary page to follow the links again.

---