dusit D2 Pattaya Hotel
Our next destination was the dusit D2 Baraquda Pattaya Hotel (now named just the Baraquda Pattaya - Mgallery).
Checking out of Gu's Bay Resort and heading along the main road to the ferry terminal was a straightforward task as I already said.
The traffic was fairly quiet and although I hadn't noticed on the drive in, there was quite a lot of development that had taken place over the past couple of years.
Koh Chang Ferry Price
At the Koh Chang ferry terminal we stopped at the booth and had to pay 120 Baht for the car and 160 Baht for the two of us.
Renamed Baraquda Pattaya Mgallery
There was just a short queue and as the cars inched forward the attendant brought down the barrier right in front of us.
It seems we had just missed the departing ferry by about two cars, so we needed to wait for the next one to berth.
The ferries from Koh Chang travel frequently and we didn't have long to wait as the next ferry arrived within about 10 minutes.
We drove the car on board, parked where instructed and then went for a walk around on the upper deck for the 20 minutes or so that it takes to get back to the mainland.
Upon arriving at the ferry terminal I drove the car off and we set off straight for Pattaya.
The plan was to head for the Baraquda Pattaya hotel.
Baraquda Hotel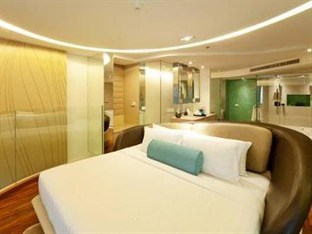 Baraquda Pattaya - Mgallery
Centrally located on Pattaya Second Road the Baraquda hotel makes a great base to explore the attractions of Pattaya.
With comfortable rooms and generous balconies overlooking the swimming pool, the Baraquda Hotel staff can cater to your every need.
Now with free Wi-Fi.
From USD 76
Limited Availability
---
The drive to Pattaya is fairly straightforward and if you can get yourself to Beach Road then you continue on past the Pattaya Central Festival mall and you should look for Soi 13/2.
This is immediately after Soi 13 and Soi Yamato and it is then the next one along.
Soi 13/2 is very narrow and so you need to drive carefully to avoid the pedestrians, but it save you going all the way to Walking Street and taking a left turn there.
When you reach the end of the Soi you will find that the Dusit d2 Hotel is directly opposite.
Carefully we inched our way across 4 lanes of traffic to get to the entrance, but the other driver's were most obliging in letting us in and we managed to get across safely.
Arriving at dusit D2 Pattaya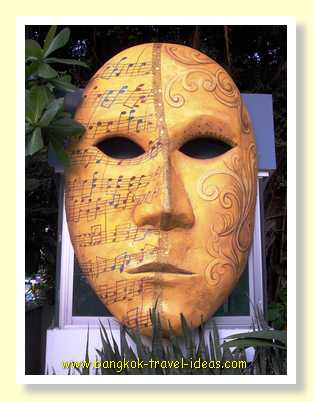 The check-in formalities were completed quickly and after parking the car in the underground car park and putting things in the room we left the dusitD2 Pattaya hotel and set off to go and find some lunch.
The room was furnished in a contemporary style and there was a balcony overlooking the swimming pool.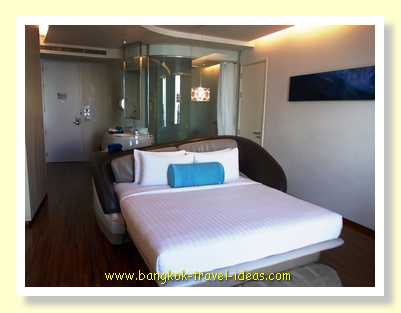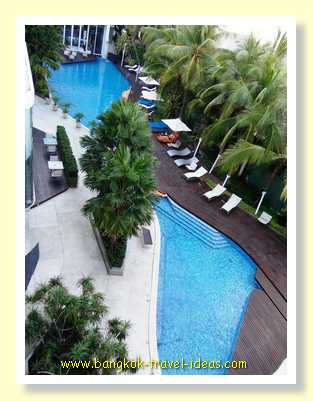 This hotel is centrally located on Second Road, which is the one that runs parallel to Beach road and it is just a short walk down Soi 13/2 to be at the ocean and all the shops and bars.
Soi 13/2 Pattaya
Soi 13/2 is filled with massage shops, Doctor's clinics, a range of small bars and if you want to rent a Harley Davidson motorbike then you can do that too.
There were quite a few places on this street that had quiet music in the background.
So if you want a place to go and meet and chat then these places might suit you. 
Over on the beach there are jet skis to rent, paragliding trips to take and seats where you can order food.
Walking along the pavement there are all sorts of things for sale, some which would be illegal in your home country.
Even if you don't buy anything it makes for great browsing.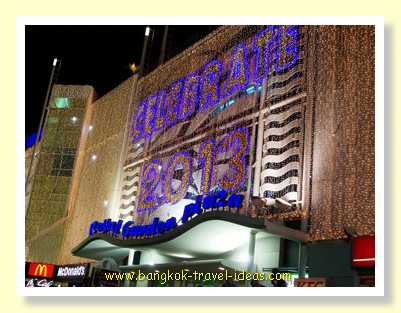 The first big shopping mall we came to was Garden Plaza.  
As it was just before Christmas it was all decorated with lights and there were people being photographed in the Santa's sleigh out the front.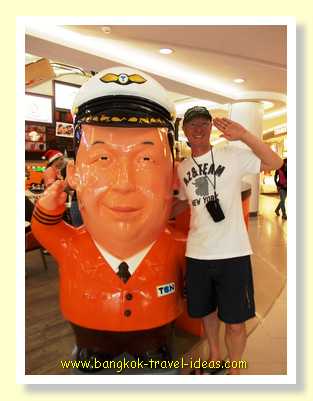 The shopping mall was full of tourists seeking out a gift for their friends or family back home or just simply window shopping.
Thailand always has larger than life characters to promote a business and I enjoy being photographed alongside them.
Fast Food in Pattaya
Coming out of the shopping mall we spotted a McDonalds and so went to get some fast food for lunch.

A couple of burgers, two Cokes and fries came to 300 baht, I thought that it was much more expensive that Bangkok.

There were some tables outside for the smokers, but as the area was vacant we sat down and just looked at what was going on around.
The temperature was very pleasant and the slightly overcast sky meant that it was not too hot and there is often no more enjoyable activity than just sitting in a nice spot and watching the other tourists around you.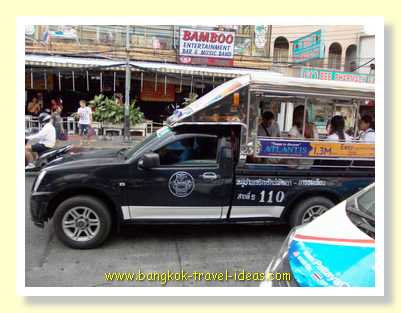 After eating we continued on our way heading towards Walking Street.
From about 7:00 pm, Walking Street is closed to traffic and becomes a pedestrian precinct.
We had a general look around, but the place really comes alive at night, so there was not much to see and we headed back to the dusit D2 Pattaya for a swim.
The next place to go was to go and see the Pattaya bars in Walking Street.  
The best time to go is about 8:00 pm so we went back to the hotel room to have a swim in the pool.
If you are thinking of booking a hotel in Pattaya then I strongly recommend the dusit d2 Pattaya, as it is centrally located and quite easy to get down to the beach or over to Walking Street.