Pattaya Jet Ski Scam
Have you ever heard of the Pattaya Jet Ski scam?
One of the great reasons to visit Pattaya is the abundance of water sports.
Around Pattaya and on Koh Lan there are banana boat rides, speed boat rides, paragliding and Jet Ski rentals. 
This is just the sort of activity that the adventurous tourist has come on holiday to Thailand for.
---
Use the Power of Agoda to find Great Deals on Bangkok Airport Hotels
Whether you are arriving or departing from Suvarnabhumi Airport you are bound to need an Airport Hotel.
Use the powerful search function to identify the best choice and make a booking TODAY.
---
Pattaya Jet Ski Scam
Everyone likes to get out on the water and have a great time and the warm Thailand weather makes it ideal to be outdoors getting wet and keeping cool.
There are plenty of beaches near Bangkok within a short driving distance and places like Pattaya can be visited easily in a day and there is lots to do once you arrive.
Many foreign tourists visit Pattaya, but where there are lots of tourists then there is always someone looking to take advantage of them and part them from their money.
Scams in Thailand seem to get a lot of publicity, probably out of all proportion to their occurrence, so you should know what to look out for. 
One of the well publicised scams is the Jet Ski scam and if you are thinking of taking a Jet Ski out then there are some things that you should know.
When you hire a Jet Ski you have to sign a contract agreeing to make good any damages caused to the Jet Ski whilst you operate it.
This type of clause is standard whether you rent a car, motorbike or Jet Ski and if you don't sign the contract then you can't rent the vehicle.
So you really don't have any choice, but there are some things that you can do to protect yourself against poor operators trying to take advantage.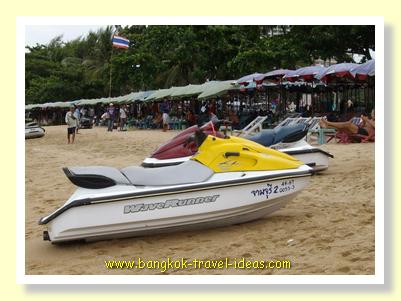 The Jet Ski scam can work in a couple of ways.
One way, is that after you return the Jet Ski the operator will come back later with the police and claim that you damaged the Jet Ski in some way and want the cost of the repairs.
The other way is if you actually do cause some damage to the Jet Ski, then the quoted repair cost is at a greatly inflated price.
Not being an expert in the cost of Jet Ski repairs you will have little idea of how much these repairs should cost and whether you are being overcharged or not.
In tourist areas of Pattaya and Phuket the Jet Ski scam has reached such a level that the general advice is not to rent a Jet Ski in these places.
Until the problem is resolved the ongoing bad publicity will continue to damage the tourist's image of these two popular holiday destinations in Thailand.
If you do want to take the chance of renting a Jet Ski then you should at least take photographs of the Jet Ski from all angles before you take it out.
If the Jet Ski is already in the water you probably will not be able to get photos under the water level, so there is still a risk that there is some unseen damage.
After you return the Jet Ski then take the same set of photographs as evidence that it was returned in good order.
In January 2020 some Thais tried to take photos of the Jet Ski before use and they had a disagreement with the operator who didn't like photos being taken and it didn't end well for all concerned. 
Pattaya Jet Ski Scam
When I visited Koh Lan I saw the Pattaya Jet Ski scam play out right in front of me on a Russian tourist.
Well at least he sounded Russian or Eastern European.
What happened was that the Jet Ski operator with the signed agreement in hand came along the beach with two policemen to talk to the tourist who was sitting in his beach chair.
Because of the language differences the policeman was taking on his phone to a Russian interpreter and then he had to hand the phone to the tourist so the interpreter could explain what had been said.
The same happened in reverse.
The Russian had to put his side of the story to the interpreter and the phone was then handed back to the policeman.
During this time the Jet Ski operator stayed several metres away and did not get involved in the discussion at all.
As time went on the second policeman wandered off but the Russian got more and more agitated as he was being asked for money that he obviously thought he should not pay.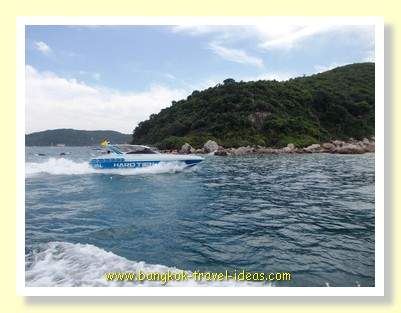 Either it was an excessive amount or he did not do the damage claimed, I guess.
At one point the Russian tourist tried to give the policeman money in a covert way to settle the matter, but the money was refused by the policeman and the discussion continued.
After about 30 minutes the wife started to make her own phone calls to someone else as it seemed that if it could not be settled then and there, the Russians would have to go to the Police station.
Obviously he was on holiday out to enjoy himself and the last thing he wanted to do was to leave the beach early and spend the rest of the afternoon down at Pattaya police station sorting things out.
As time progressed the Russian tourist could be seen making some sort of offer to try and settle the matter.
Periodically the policeman would go and consult with the Jet Ski operator, but the offers were rejected each time.
I would like to be able to tell you how the Pattaya Jet Ski scam ended up, as this scene played out right in front of me.
To be honest the whole saga went on for over one hour and we had to leave to catch the ferry back to the Pattaya pier, so I didn't get to see how it was finally settled.
To be fair to all involved, I don't know if there was actual damage to the Jet Ski, but certainly the Russian tourist was disputing the amount being claimed by the operator.
An incident like this can be settled on the beach by you paying what they claim.
But if you dispute it then be prepared to spend a couple of hours of your holiday discussing and negotiating and then having to spend even more time down at the Police station.
In some cases if you cannot agree on a settlement and the matter is referred to a court you could be prevented from leaving the country. For the average tourist this an absolute nightmare.
The Pattaya Jet Ski scam had become so widespread in some parts of Thailand and because it started to cast a negative light on the tourist industry there has been talk of having some sort of mandatory insurance as part of the rental process.
One thing is clear is that something will have to be done.
Of course these incidents come and go and you can't label all Jet Ski operators as dishonest and similarly there are tourists that do damage to the Jet Skis and try to get away without paying.
The moral of the story is really to take extra care when renting a Jet Ski and to check for damages before you take it out and make sure that it is returned in good order.
Taking photographs before and after is a wise precaution as is having your own Travel Insurance policy that covers against accidental damage.