Hotel Car from Bangkok Airport
There are numerous options for taking a hotel car from Bangkok Airport, some of them are good and some of them are not so good.
It all depends on that life long question whether you have "money but no time" or "have time but no money."
Read up on the various ways to travel and the factors that may influence your final decision.
Book a Hotel Car from Bangkok Airport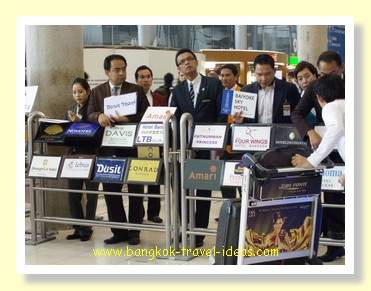 Convenience: Arrange a hotel car from Bangkok Airport if coming on vacation or business to Bangkok.
Arranging a Bangkok Airport transfer beforehand is a convenient option and the hotel car booking reservation can be made at the same time as booking the hotel.
It may not be so convenient to book a car from the airport if you book via a discount hotel booking service.
In this case you will have to contact the hotel separately to make the arrangements for a transfer from Bangkok Airport.

At least when you do meet up with the driver, you will be assured he knows where the hotel is.
Safety: As safe as the driver at the wheel of the car. Police checks may not have been performed on the driver.
Cost: Probably this is the most expensive option. The 5-star city hotels in Bangkok will charge up to 2800 Baht for a hotel transfer from Bangkok Airport and the 3-star hotels about 1200-1400 baht depending upon where you choose to stay in Bangkok.
Pitfalls: Either the hotel does not send the car for you, or your flight is delayed or cancelled. You may incur costs if you do not turn up because your flight is delayed.
Directions: Beyond Customs Control, turn right and upon entering the arrival hall you will see the 5-Star Hotel greeters standing behind the barrier.
They will be holding a sign with the name of the Bangkok hotel that they represent.
Once you identify yourself they will call the car to come to the entrance.
There will be a few minutes wait as the driver travels from the waiting area to the collection point at the front of Suvarnabhumi Airport, but once he picks you up you know that it won't be long before you are in the Bangkok Hotel of your choice.
Seven Ways to Transfer from Bangkok Airport to Bangkok
Bangkok Airport to Bangkok
Return to the summary that covers arrivals a Suvarnabhumi Airport or go have a look at the page on Bangkok Districts to check out where to stay.

Bangkok Airport Limousine Transfer
Taking a car from Bangkok Suvarnabhumi Airport is relatively inexpensive. You can travel in style and comfort and arrive at your Bangkok Hotel where the porter will assist you with your baggage.
Taking an Airport limousine transfer from Suvarnabhumi Airport is the preferred choice of many traveller and if you want to get from the airport to Bangkok without fuss or complications then this has to be the way to go. 

Bus from Bangkok Airport
The cheap and easy way to transfer from Bangkok Airport is to go via Public transport.
Catching the bus from Bangkok Airport is not difficult so depending upon your hotel's location in Bangkok, this could be an option to consider. 

Train from Bangkok Airport
Since 2011 the Suvarnabhumi Airport Link (ARL)  has provided a really neat alternative option to travel from Bangkok International Airport to the city of Bangkok.
If your hotel is near to any of the ARL statons or you don't have much baggage then this could be a vaible option. Find out more information about taking the train from Suvarnabhumi Airport.

Car Hire Bangkok Airport 
A self-drive car can get you to your apartment quickly. If you are not familiar with Bangkok traffic or the layout of the roads then it is not recommended.
Read about what you need to know about self-drive car hire in Bangkok? 
Bangkok Taxi from Airport 
Most people landing at Bangkok Airport simply take a taxi into Bangkok. Taxi scams are well documented, but how likely is it you will be targeted?
Read my article, on taking a Bangkok taxi from the airport and be prepared for the worst.