Train from Bangkok Airport
Taking the train from Bangkok Airport wasn't possible until 2011 when the Airport Rail Link (ARL) was opened connecting Suvarnabhumi Airport directly to Bangkok.
Since then, more and more passengers are using the train from Bangkok Airport to get into the city and it now makes it possible to leave the airport for those with a short layover in Bangkok.
Convenience: Additional escalators are being installed in the Suvarnabhumi Airport Rail Link stations as using the stairs is not convenient for all passengers.
There are two train services operating. One service called the SA Express operates from Suvarnabhumi Airport and goes non-stop to the Bangkok City Air Terminal (BCAT) at Makkasan.
It takes approximately 15 minutes to get from Bangkok to the Suvarnabhumi Airport.
The train from Bangkok Airport is the SA City Line, which originates from Phaya Thai and stops at Ratchaprarop, Makkasan, Ramkhamhaeng, Hua Mak, Ban Thap Chang, Lat Krabang and finally terminating at Suvarnabhumi Airport.
If your hotel is located close to one of these stations then you are in luck, but you will still have to transport your cases from the Airport Rail Link station through the streets to your Bangkok hotel.
The Airport Link train from Bangkok Airport also connects to the MRT or the BTS at certain points.
Although carrying a suitcase can be problematic when travelling in peak hours when the carriages are full, it is probably no worse an experience than those people with baby strollers and they seem to manage.
Safety: Safe
Cost: 150 Baht per person
Pitfalls: The train from Bangkok Airport operates 06:00 – 24:00 every day. There is a lack of escalators at some stations.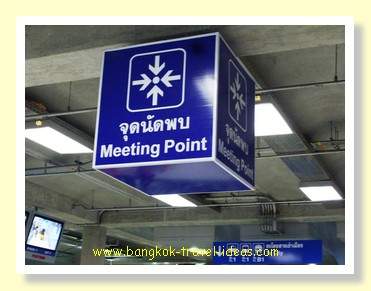 Directions: Once beyond Customs Control, turn right upon entering the arrival hall and proceed past all the hotel agents until you reach the Meeting Point sign.
Take the down escalator to the next floor and then follow the signs to the train which is down one more level.
You can view more details of the Bangkok Airport train at the official website.
---
Transfer from Bangkok Airport to Bangkok.

Bangkok Airport to Bangkok
Explore my overview covering arrivals at Bangkok Airport, or go and study the page about various Bangkok Districts to decide the best Bangkok area to stay in.

Bangkok Airport Limousine Transfer
In expensive option is to take a limousine from Bangkok Airport to Bangkok. Arrive in style and comfort at your Bangkok Hotel and get help with your luggage.Taking a Bangkok Airport limousine transfer from Suvarnabhumi Airport is my all-time preferred option to get from the airport in Bangkok to my hotel.

Bus from Bangkok Airport
Public transport is a cheap and economical way to transfer from Bangkok Airport. Catching the bus from Bangkok Airport is not difficult and depending upon the location of your hotel, it could be a viable option.

Car Hire Bangkok Airport
A self-drive hire care can get you to your apartment quickly, if you are brave enough to negotiate Bangkok traffic. Read more of what you need to know about renting a self-drive car hire in Bangkok?

Bangkok Taxi from Airport
The vast majority of arrivals at Bangkok Airport simply take a taxi into Bangkok. Taxi scams are well documented, but how likely is it you will be targeted? Read up, on taking a Bangkok taxi from the airport and be prepared.

Hotel Car from Bangkok Airport
Book your hotel car at the same time as booking your Bangkok hotel. Let the hotel arrange to pick you up in a fancy hotel car, when you arrive at Bangkok Airport. What could be easier? Find out what can go wrong.  

Return to Bangkok Airport To Bangkok

Return from Train from Bangkok Airport to Bangkok Travel Ideas

---