Dusit Princess Hotel
The Dusit Princess Hotel is a Bangkok hotel pick of mine for excellent value Bangkok accommodation and as a bonus the rooms have just been renovated.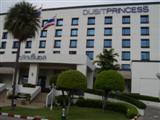 Being located 20 minutes from Suvarnabhumi Airport it is ideal for an overnight stay, or if you don't need to be located in Bangkok city centre. Best of all, it really can be considered a budget Bangkok airport hotel because of its location and all the additional features that it offers.

The Dusit Princess Hotel has recently been refurbished in a modern style so you are most likely to be especially pleased to get a new room. They are clean reasonably sized rooms, including suites and junior suites all set in a low rise 6 floor building.
This Bangkok hotel caters for Thai tourists and business people more so than foreigners and consequently the breakfast menu is more focused on Asian food, although there is plenty of Western food available.
Additionally it is popular with a lot of flight crews and on the weekends the hotel can be quite busy with wedding parties.
The refurbishment is now complete for all floors.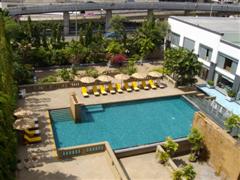 This Bangkok hotel has its own swimming pool that is empty most of the time, which is something that I like.
Seems to be a bit of a common theme really as many of the hotels seem to have an absence of swimmers.
Dusit Princess Hotel Suite
The recently upgraded two room suite is surprisingly affordable and there is enough room to hold a dance.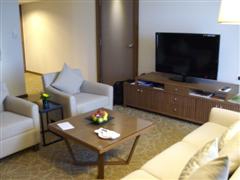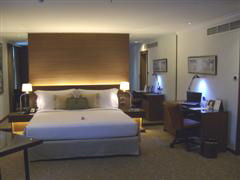 This hotel near Bangkok is located adjacent to the largest shopping centre in the Southern Hemisphere Seacon Square also located on Srinakarin Road, where you can while away hours on your stopover and develop a taste for Bangkok shopping or have a relaxing Thai massage.
Seacon Square is often described as the largest shopping centre in the southern hemisphere whether it is or not is up for debate, but it is certainly large.
Seacon Square is literally 60 metres from the front of the hotel and you can just walk over to the side entrance of the mall.
There are plenty of restaurants and fast food shops in the shopping centre but there are not so many restaurants in the open air within walking distance of the hotel.
Further along Srinakarin Road and just past Seacon Square is what used to be called the Seri Centre.
This has now been remodelled and it opened mid 2010 to an amazing fanfare of publicity and has been renamed Paradise Park. and positions itself as serious competition to the likes of Central World and the Emporium.
Around the side and rear of the the Paradise Park shopping centre is a range of good restaurants, such as Bua Restaurant and Krua Mhai Ngahm. Krua Mhai Ngam has been renamed Ba Ho and now serves alcohol.
Same friendly staff and good food as before but this change of positioning is is aimed at differentiating itself from the range of restaurants inside Paradise Park.
At the rear of Paradise Park is one of Bangkok's major parks called Suan Luang Rama IX Park, not to be confused with Sanam Luang park in the centre of Bangkok.
This park is somewhere you can go and walk, run or take a paddle in one of the peddle boats on the lake and just relax for a few hours.
Getting There: To get to the Dusit Princess hotel from Suvarnabhumi Airport will cost you 800-900 baht in the AOT limousine depending upon the promotion they have going.
To take the hotel limousine back to the airport is only 900 baht.
Expect to pay 200 baht in a regular taxi for the same 20 minute trip.
Just note that AOT at the airport have the Dusit Princess Hotel in their computer system as the Royal Princess Hotel Srinakarin, beats me why, as I don't think it has ever been called that, at least not in recent times.
As well as this being a great budget hotel in Bangkok with breakfast included, the other bonus is that currently the wireless internet in the rooms is free, so you are saving yourself 500 baht a day in internet fees.
Not only that, but it is a fast connection with no dropouts. I don't know how long this will last but just make sure you ask for the internet password when you check in and they will give you a ticket.
But wait there is more.
For people that want to go shopping in the centre of Bangkok then they use to run a free shuttle bus on Saturday and Sunday to the main shopping district.
This service is dependent upon demand and could be terminated at any time so if it is a deciding factor for you then give the hotel a call to check current availability.
There are two departure and return times to fit your schedule. I haven't used this service so I can't comment on how convenient it is, but here are the times of the van to take you into the Bangkok city centre.
The one time that I wanted to use it there were no other passengers, so the hotel paid a taxi to take me to Bangkok; I was stunned to say the least.
Talk about excelling at customer service, this certainly exceeded my expectations as I was expecting them to tell me that they were not running the service that day and leave me to make my own arrangements.
One thing that I should point out is that the hotel chain has its own education College located next door.
This is where staff for the Dusit chain of hotels are trained in all aspects of the hospitality industry; maybe that is why you get such good customer service in this hotel.
If you are interested in finding out more about the Dusit Princess Hotel then you can get more information on rooms and availability at Agoda here.
The Dusit Princess Hotel is my pick of the more classy Bangkok Airport hotels around the airport as it is easy to get too, not too expensive and there are a range of nearby tourist destinations to fill in the time.