Wat Hua Lamphong
Wat Hua Lamphong is one Buddhist temple to put on your travel itinerary.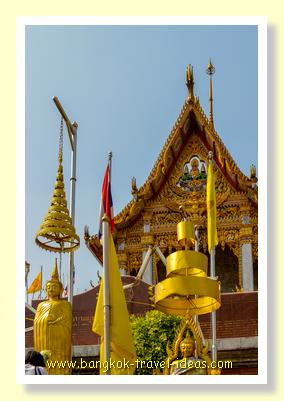 If you are staying in Bangkok then there are many Thailand Buddhist temples to choose from and depending upon your location in the city you may find this one to be convenient.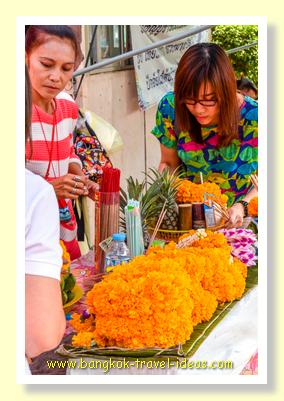 How to Get to Wat Hua Lamphong
If going by public transport, then Wat Hua Lamphong is located on the Rama IV Road near to the Sam Yan MRT station and just across from the sprawling Lumphini Park, close to the Dusit Thani hotel in the Silom business district.
Alternatively, take the BTS Skytrain to Saladaeng Station and then it is just a short walk to Wat Hua Lamphong
However you choose to travel, it is fairly easy to get to and its location could be very convenient for you.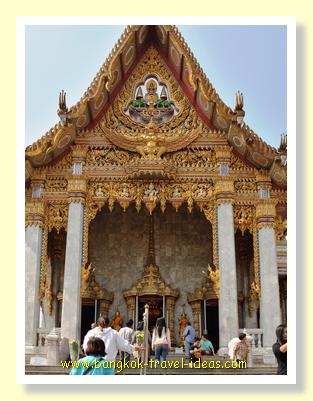 In my case the journey was by car and because it was a National holiday in Thailand the roads were reasonably quiet, although as we drew up outside we could see that it was pretty busy already.
The entrance to the temple is just before Si Phraya Road and we pulled in carefully without much idea about where to park the car.
It would have been really easy to miss the entrance, so it just as well that the driver was going cautiously.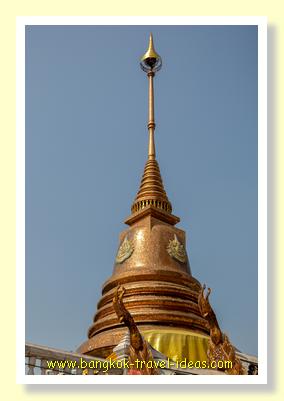 There were a number of other vehicles in front of us and so we followed them to the back of the block down a narrow winding road, until we reached a small multi-storey car park.
The car park was about five or six levels high and as we went up the single ramp I saw that each floor was completely full.
Drivers had already started to double park their cars on the ramps between floors and that made manoeuvring the car quite tricky as there was not a lot of room to get past.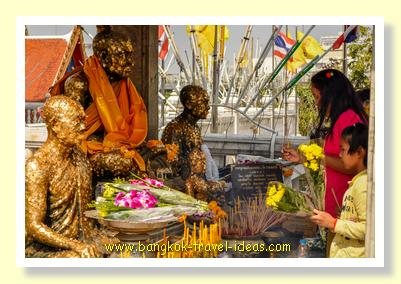 Anyway we reached the top floor out in the open air and managed to snag one of the last two car parking spaces left.
We parked the car and walked down the stairs.
On the ground level I saw that cars were still entering the car park, clearly there was nowhere for them to go.
For now our problem was solved and we headed for Wat Hua Lamphong.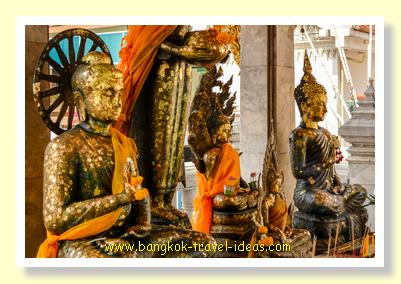 At the front of the temple there was a small market selling offerings and flowers.  
The temple towered above us and the main hall was up a big flight of stairs with fluorescent tubes along the sides.
I imagine that at night when they are all lit that it would look pretty awesome.
The weather was not overly hot or humid and the climate was quite pleasant.
There was a little stall selling young coconuts so we bought a couple and polished them off.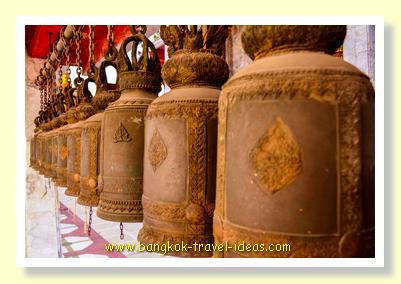 There is speculation that Wat Hua Lamphong was built high up to avoid flooding.
This is quite possible as the Chaophraya River is less than a kilometre away.
After disposing of the coconuts we climbed the stairs and could see that on the upper level was the main temple hall (Ubosot) and smaller white temple (Viharn).
I wandered around taking photographs, ringing the bells and making wishes as I went.
There are a number of shrines to important Buddhist figures such as the Hindu God Ganesha and King Chulalongkorn (Rama V).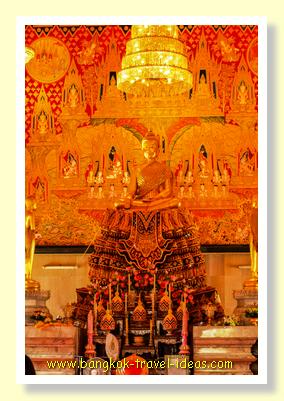 After our visit was complete it was time to return to the car.
As we retraced our steps to the car park we could see cars all queued outside and up the ramp.
Obviously the place was pretty full, only now there were people wanting to come out whose path was blocked by those trying to get in.
We walked to the top floor and luckily the car wasn't blocked in so we then spent about 30 minutes edging past the cars trying to come up the carpark ramp.
Some people were coming up in great big pick-up trucks that were too long to navigate the corners in one go.
One guy had to get out of his car and help direct the traffic and make sure they did not scrape the concrete pillars or hit another vehicle.
Fortunately with his skills we managed to get out in our small car in one piece and left the others to fend for a parking spot.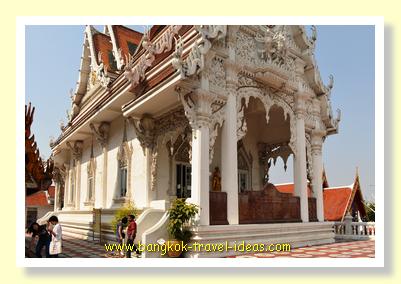 Coffin Temple of Bangkok
Next to the Wat Hua Lamphong temple is what is sometimes referred to as the "coffin temple".
I had been here many times before and always thought that Wat Hua Lamphong consisted of just this part.
Basically, many people have animist beliefs in Thailand; that is they believe that spirits exist not only in humans but also in animals, plants, mountains and streams etc.
These spirits can do good or harm and are to be appeased by worshipping them or providing them with offerings.
There is a small display with an ox and various farm animals to make merit to. 
You can also donate money to the Ruamkatanyu Foundation who will provide coffins to those killed, with no one to claim their bodies and the Foundation will provide a funeral for them.
500 baht will buy one coffin, but you can donate any amount as you wish.
Sit down at the desk, pay your money and write your name, or the names of family members on the pieces of paper.
After making a prayer in front of the orange coffin, paste the pink slip one onto the coffin.
Take the white receipt with you, pick up 20 incense sticks and go back outside and burn the receipt in the urn and place the burning incense sticks in the holders either side of the door and in the other holders.
There are actually enough holders to take all of your burning incense sticks, so don't miss any. 
Making merit is a big part of the Buddhist way of life.
It all relates to Karma and the general belief that if you do good, then good luck will come to you and if you do bad, then bad luck will come to you.
Leaving offerings to spirits and donating to good causes is a way of attracting good luck back to yourself and family.
If you were interested in this you may also be interested in some other Thailand Buddhist Temples in and around Bangkok.
Coffin Temple Opening Hours
The Coffin Temple is open 24 hours and I have been there a couple of times just before midnight and there were still lots of people around.
Wat Hua Lamphong Opening Hours
I have seen reports that this temple is open 24 hours also, but I think you should verify this with your hotel before travelling at unusual hours.