Agoda Bangkok
Agoda Bangkok is the premier website search to find Bangkok budget hotels and cheap Bangkok accommodation for that next overseas trip.
If you are not sure where to stay in Bangkok then you have come to the right place to find out.
More and more people are becoming comfortable with the concept of self service internet booking and reaping the savings.
Whether you are a business traveller or just planning a special holiday, then booking on the internet has never been safer or easier.
Searching for your desired hotel takes just a few moments.
Agoda Bangkok Website
Perhaps you have previously visited Bangkok and already know where you wish to stay.
But if you haven't visited Bangkok before, then you may be confused by the different areas and be overwhelmed by the choice of Bangkok budget hotels.
Not sure where to stay in Bangkok?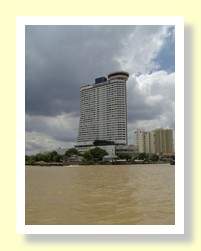 Get yourself up to speed with this overview of the various Bangkok districts. 


One of the reasons that hotel accommodation is so cheap in Bangkok is because the competition is so intense.
Many areas have an oversupply of hotel rooms; this means there are real bargains to be had for the savvy traveller.
Agoda has all the popular tourist areas pre-sorted for ease of use.
Choose from Silom, Sukhumvit, Chinatown, Airport/Bangna and many more Bangkok areas at the click of a button.
Not familiar with these areas?
Each of the areas of Bangkok has an associated map that allows you to check on the exact hotel location.
This is a great feature, as hotels near the BTS Skytrain are always a popular choice and it pays to find out exactly where your hotel is located as being near transport can save you heaps of time.
When you make a hotel selection on the Agoda Bangkok website, a choice of room types and prices is presented.
Choose the room type, inclusive of breakfast or not and the booking condition.
The booking conditions are very important, so read them carefully as they relate to how late you can cancel and still get a refund.
In some cases the very cheapest room rates do not offer any refund.
Ensure you read and understand this section.
Are you still unsure about booking on the internet?
You don't want to end up in a dog box, but then you don't want to pay the absolute maximum in a 5 star hotel if you are not going to use all the facilities.
Read the traveller reviews
Agoda Bangkok supports each hotel listing with traveller reviews rating their personal experience of that particular hotel.
These hotel reviews are a great source of information.
As a general rule, look through the last 20 or so traveller postings and see what the general tone is of the comments. This way you will very quickly get an impression of whether that hotel is going to be a good experience or not.
It is surprising how good a guide these online reviews are.
Still not sure where to stay?
Then learn more about Bangkok tourist locations before deciding.
Me, where do I like to stay?
As a general rule I like the Sukhumvit area, because of the restaurants and proximity to the Skytrain.
But at Christmas and New Year time, it is hard to beat being in the heart of the shopping area near to Central World and I would certainly choose Siam, Central World or Pratunam areas at this time of year because the atmosphere is just fantastic. 
If you are travelling in a larger family group and are looking for two or three bedroom suites in Bangkok then I have compiled a list of the very best on offer.

---
Bangkok
› agoda bangkok
---
---