Chatuchak Market
Chatuchak Market is one of the most famous markets in Bangkok and is the place that every Bangkok tourist should visit at least and sometimes also referred to as JJ Market in the main Bangkok shopping guides.
Spread over 11 hectares the Chatuchak Weekend Market is a market full of winding alleys, little shops and stalls and a place to explore and discover the wonders of the orient.
It is said to be the largest open air market in the world attracting over 400,000 visitors each weekend.
Chatuchak Market is divided into 27 sections and if you are looking for something specific it is a good idea to what these are so you know where to look.
Of course if you just want to browse then you can wander the small alleys and you just never know what is around the next corner.
Market Index
Section 1 Books, collectibles, food shops, café
Section 2 to 4 Home décor, paintings, terra cotta
Section 5 to 6 Clothes, miscellaneous products
Section 7 to 9 Antiques, furniture, ceramics, handicrafts
Section 10 to 24 Clothes, consumer products, pets
Section 17 to 19 Ceramics, fresh and dry food
Section 22 to 26 Antiques, furniture, handicrafts
Section 27 Books, food and dessert shops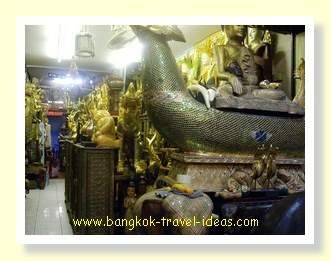 As the name suggests, it is primarily a weekend market operating on a Saturday and Sunday.
About 40% of the stalls are open though on a Friday for wholesale trade and the place is a lot more relaxed.
The published weekend opening hours are 9.00am - 6.00 pm but stall holders are starting to open from 7.00 am.
If you are just interested in plants, then this section is open Wednesdays and Thursdays from 7.00am -6.00pm.
It makes sense to get to Chatuchak by around 9.00am on a weekend as it can get very hot and crowded as the day goes on.
Go to Chatuchak Market
Take the BTS to Mo Chit Station and leave by exit number 1.
With Chatuchak park on your right continue walking about 200 metres until you reach the entrance to the market on your right.
Alternatively, take the MRT to Chatuchak Park station.
JJ Mall Bangkok
JJ Mall Bangkok is an air-conditioned shopping mall at the rear of Chatuchak Market and is open every day from 10:00 am to 6:00 pm.
You will be able to see it as you approach the market itself.
So if you really need that special something and can't wait for Chatuchak to open then head on over to JJ Mall.
They are sure to have just what you are after.