Thai Airways First Class Food
Thai Airways First Class Food
Thai Airways serves first class food on all its flights, but nothing like the treat that is in store for you, if you actually travel in the First Class section of the plane.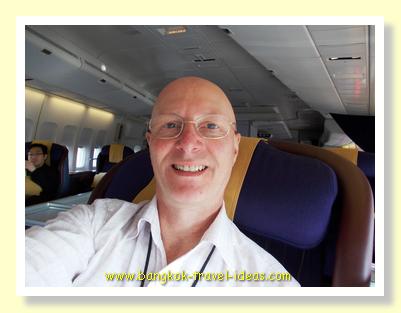 It is always a great experience when at the check-in time you discover that your flight has been upgraded to First Class. 
I was recently upgraded to First Class on Thai Airways and it just shows how popular the Sydney to Bangkok trip has become as an upgrade like this is most commonly because the flight is full and passengers have to have their seating reallocated.
Full flights are a healthy sign for an airline after the disruptions of the last few years.
I took a quick photo of myself sitting in Seat 1A
Thai Airways First Class Food
Here are some pictures of the food served to First Class passengers on Thai Airways flights.
This flight was from Sydney to Bangkok.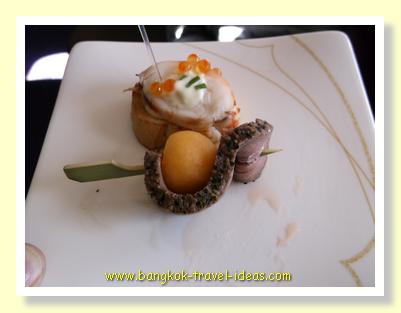 Canapes to start things off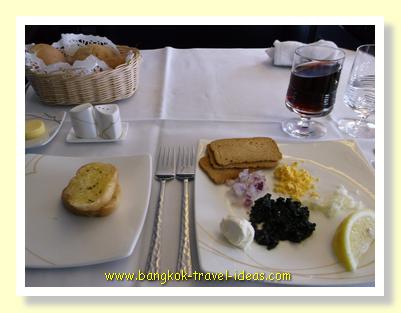 White Sturgeon caviar with Garnitures and a glass of red wine and few pieces of Garlic Bread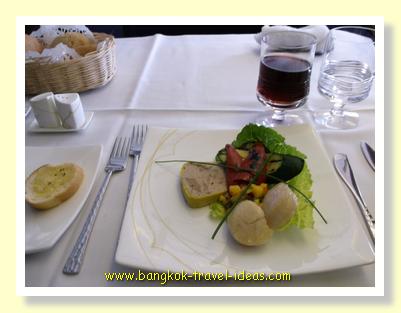 Duck Liver Terrine, Grilled Sea Scallop and Grilled Marinated Vegetables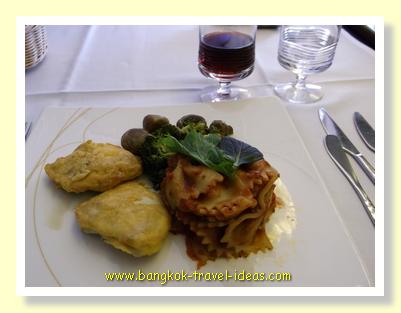 Chicken Piccata, Pasta with Pomodoro Sauce, Sauteed Mushroom and Broccoli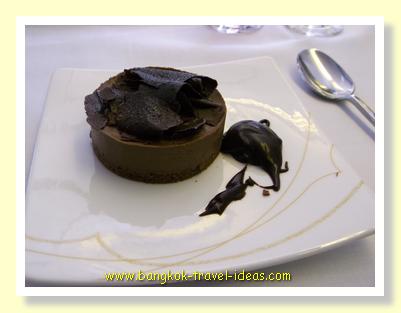 Chocoloate Mousse Cake and Black Tea with Lemon
I skipped the Assorted Cheeses and Fresh Fruits course that gets served just after the main course.
There is a selection of fine wines and spirits to help yourself to throughout the flight.
The Thai Airways First Class food on this flight was well presented and served with style by the cabin attendant allocated to me.
You can see more photos of food served to First Class Passengers here.
I don't make as many international flights as I once did, but I still enjoy the surprise of being upgraded to First Class. It can happen at any time and according to my colleagues, much more frequently than on the Airlines that they fly on.
Sometimes an upgrade can happen at check-in, sometimes they can call your name out at the boarding gate. One time I was already in my seat and another gentleman came and had the same seat allocated to him.
I must admit that circumstance did get my heart racing a bit, as two people with the same seat on the boarding pass didn't look promising for one of us.
Luckily I got a "please come with me sir" and got escorted downstairs to the First Class Cabin and he got to sit in my old seat in Business Class.
I was glad I didn't make a big fuss and demand to remain in my allocated seat and make the other guy move.