Oam Thong Restaurant
Have you heard about the Oam Thong Restaurant in Sukhumvit?
If not and you are looking for a nice upmarket restaurant for that special dinner, then why not try the Oam Thong Thai Restaurant, which is located just 80 metres inside Sukhumvit Soi 33 on the left-hand side.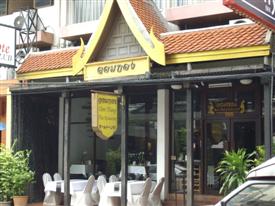 It serves fine Thai food in a pleasant atmosphere and all at a reasonable price. There is a varied selection on the menu and the dishes have been adjusted to the western palate and you will find that they are not over spicy whilst still having the authentic Thai taste.
The Oam Thong Thai restaurant first opened in 1984 and has been going strong ever since. Focussing on traditional Thai food with the gentle mixing of the flavours, blending sweet, sour, spicy and salty in a harmonious way that follows the traditional Thai cuisine.
The interior of the restaurant is decorated with century old Thai row boats and oars of different sizes. These ancient boats are constructed from the giant Malabar Ironwood, one of the Thai sacred trees. The whole atmosphere is one of calm and relaxation and the service is low key but attentive.
You can choose to sit inside in air-conditioned comfort or outside where you can watch the people go by. Whether you go alone or with a group of friends you can select from the ample menu and have an enjoyable evening at the Oam Thong Thai Restaurant Bangkok.
Not sure how to get to the Oam Thong restaurant? Just take the Bangkok skytrain to the Phrom Phong BTS station and walk about 200 metres back towards the city until you get to Soi 33.
In the neighbourhood but don't fancy Thai food?
Check out the buzz at Tenderloins Sports Bar and Steakhouse also in Soi 33 and just opposite Wall St.
Return to Thai Food

Return from Oam Thong Restaurant to Bangkok Travel Ideas