Budget Hotel in Bangkok
Get in early and arrange a budget hotel in Bangkok Thailand, that is close to the attractions you have selected.
For those not familiar with Bangkok then read my article about where to stay in Bangkok first, so you get an idea of the layout of the city.
Using the internet makes it easy to book budget Bangkok hotels online without the need for a travel agent, but you do have to do some research first.
For major hotels, the internet rate is always going to be less than the walk-in rate, so it makes sense to check out the availability of Bangkok hotels on-line before you arrive.
For small hotels, sometimes the walk-in rate can be less than online booking, particularly in the seasonal beach areas of Thailand.
There are many websites where you can select a budget hotel in Bangkok.
In fact the choice can be a little overwhelming and you may not know where to start because Bangkok accommodation is extremely affordable and there is a great selection.
It makes sense to spend some time researching, because even a budget hotel in Bangkok will have a room that can be twice the size you would get in Japan or London and at much less cost.
Budget Hotel in Bangkok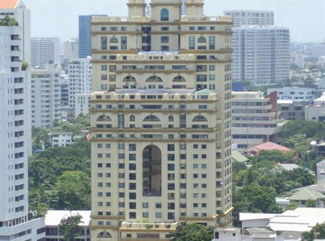 Personally I stay in budget Bangkok hotels Thailand, that are reasonably priced and have the hotel facilities that I use.
In these tough economic times there are always Bangkok Hotel deals available if you know where to look.
Choose from the many of the cheap hotels in Bangkok located along Sukhumvit Road.
If you don't know your way around Bangkok, then you will find that these locations are convenient because of the easy access to the Bangkok skytrain (BTS).
Being within a short walking distance of the skytrain line means that you can get almost anywhere in the city avoiding the heavy traffic, particularly in the rush hour or when of one of the heavy afternoon storms comes along.
Many people find that it is much quicker to take the skytrain to traverse Bangkok and then finish the journey with a short taxi ride to their final destination, rather than try and do the whole journey by car.
The Bangkok skytrain also crosses the MRT line (underground) at Asoke and the MRT is another useful way of travelling quickly and safely around Bangkok.
When researching for a budget hotel in Bangkok look for the following attributes:
Located within walking distance of the BTS
Breakfast included in the room rate (not always possible)
Swimming pool
Room safe
Security staff
Hotel room size of 34-40 square metres - 2 persons
Hotel room size 28 square metres - 1 person
Air conditioning
Internet
There are also some other factors that are important when choosing budget hotel accommodation.
Cleanliness
Free from insects and vermin
Staff service level
You will not be able to check these subjective areas on the hotel booking site but for most 4 and 5 star hotels it is unlikely to be a problem.
However for smaller Bangkok hotels and for places like Koh Samet, Pattaya, Hua Hin etc. reviews of budget hotels are worth reading up on the traveller forums.
When looking for cheap Bangkok hotels or other types of accommodation in Bangkok you should take time to look at the comments that other travellers write, as this can be a good guide when deciding between two similar places.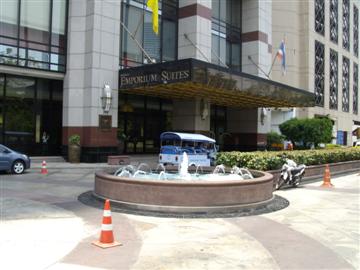 Booking a Bangkok Budget Hotel
There are two types of sites that you can use for booking a budget hotel in Bangkok Thailand.
Hotel Chain Website
These sites offer Bangkok hotel rooms at a much cheaper rate than the walk in rate, they may even be cheaper than booking by telephone.
Sometimes these hotels do not offer rooms via the discount internet sites and they rely entirely on their own website.
They generally offer all the rooms from the smallest room upto the Executive Suites on their website.
Discount Hotel Booking Site
These sites offer accommodation in Bangkok at a much cheaper rate than the walk-in rate and you can compare different hotels very quickly.
More importantly if you wish to stay in a particular part of Bangkok then you can select from a range of hotels located in a particular area.
Most sites offer area maps to make this task very simple.
If you are not familiar with the geography of Bangkok then have a look at this article about the various Bangkok Districts.
The discount booking sites may only offer the deluxe room and superior rooms, generally they do not offer suites or the more expensive rooms.
But really it does depend upon the amount of demand and upon the particular hotel as to what is on offer.
If you are looking for something special like two bedroom suites or even three bedroom suites in Bangkok or even serviced apartments then have a look at my selected list.
Some sites offer booking reward points that you can redeem for free hotel stays and if you are a frequent business traveller this can be very attractive.
The points soon add up and you can use these for short extensions to your business travel.
The best hotel bargains can be had by booking within 7 days of departure, but don't leave it too late or you may miss out altogether.
Bangkok Hotel Cancellation Conditions
When booking budget hotels in Bangkok always remember to check the cancellation conditions, some deals are cheap because they are non-refundable and once booked cannot be changed.
The cancellation conditions are set by the hotel and not by the particular website, so make sure you read carefully.
I was stung once by a European hotel for my whole stay of $1500 because they had a 14-day notice period and because of the Iceland volcano my flight was cancelled.
This experience was a while ago now, but it is still ingrained in my memory.
Within Asia the notice period for a booking cancellation is usually 1-3 days. I will check in future and count this as another lesson learned.
Luckily I was covered by my business insurance, but that won't always be the case as sometimes these acts of nature are excluded.
Whether you choose to book Bangkok hotel accommodation directly with the hotel website or the discount hotel booking site you will find that most will offer a best price guarantee.
That is they will match any other lower price you may find. In fact you will find that most of the discount prices are in a similar range for the same room type and cancellation conditions.
Check out a number of sites and prices to compare your final hotel selection though.
When booking budget Bangkok hotels I recommend Agoda Bangkok as they have a good range of hotels, a lowest price guarantee, an instant booking option and you can save another 2-5% by saving the "rewards points".
Recently they have increased the number of budget hotels in the database as well as including something called Agoda Homes, so you should definitely be able to find something in your price range.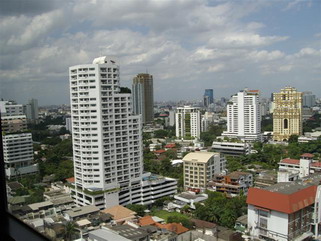 The good thing about Agoda is that they target the higher end of the market, usually 3 star and above.
It means that the choice of budget hotels in Bangkok is slightly limited but you are not going to end up in a poorly maintained hotel.
Another site that is useful when looking for budget hotels in Bangkok and that can be used as a comparison is Booking.com.
I have booked through the Booking.com website when the beach side hotel I wanted was not offered on Agoda and I have also used it to compare prices and availability.
I believe that Agoda and Booking.com are both owned by Priceline.
They have an interface that shows you exactly which nights are free for a range of hotels.
This is an extremely useful way of selecting a budget hotel if your primary choice is not available on your travel dates.
Both sites are worth having a look at when selecting a budget hotel in Bangkok as they include traveller reviews that can help in making your final selection.
Here are some Bangkok hotel suggestions and details of their location, to get you started.
The links will take you directly to the Agoda website.

The Bangkok Hotel Lotus - Sukhumvit Soi 33 should be on your short-list if you are looking for budget hotel in Bangkok in the Sukhumvit area.
The Dusit Princess Hotel - Srinakarin Road should be on your shortlist if you are looking for budget hotel in Bangkok Thailand which is closer to Suvarnabhumi Airport.
The Emporium Suites - Emporium Tower Sukhumvit should be on your shortlist if you are looking for a Bangkok serviced apartment in the Sukhumvit area.