Bangkok Airport Money Exchange
Bangkok Airport Money Exchange
If you are coming to Bangkok then some Thai baht will come in useful to get you over the first couple of days, but there are still many options to buy foreign currency for your vacation.

Some options are more expensive than the others, so read on.
Let's explore the Bangkok currency exchange options and reveal the ATM Bangkok Airport locations.
If this is your first trip to Thailand, then perhaps read more general information about travel money, first and come back to this page.
Best Bangkok Airport Money Exchange Rate
Where can I get the best exchange rate in Bangkok Airport?
When looking for the best Bangkok Airport money exchange booth, then the very best place to exchange your foreign currency for Thai baht, is down in the basement of Bangkok Airport next to the Airport Rail Link.
Is it cheaper to exchange money in Thailand?
Yes, you will always get a better exchange rate if you bring your local currency to Thailand in cash and change it when you arrive.
It is never advisable to change currency to Thai baht in your home country, either through your bank, or worse still, at the airport of departure.
You can lose up to 40% by doing it this way and so it is always better to exchange money in Bangkok.
In fact there is no problem bringing cash to Thailand, but you do have to honour your own country's currency regulations on the export of currency.
Also you need to consider that if you bring more than the equivalent of USD $20,000 into Thailand, then you should make a Customs declaration when you arrive, or else risk confiscation if it is found. 
The Customs declaration form can be obtained off your inbound aircraft, they will normally have a copy for you to complete, if you request it from the cabin attendant.
So if you are thinking, is it best to buy Thai baht in Thailand, then the answer is nearly always yes, if you are converting dollars, pounds or euros.
If converting Indian Rupees, then there is some suggestions that converting to US Dollars first, within India, and bringing US dollars could be more favourable.
As with anything, consider your own situation to determine what is going to work best for your currency.
This page has a couple of calculators to help to decide what is going to work out best for your own situation.
Bangkok Currency Converter
Before doing any Bangkok Airport currency exchange, familiarise yourself with the prevailing Thai baht currency exchange rate.
This way, you will have a good idea of what to expect when you land.
Suvarnabhumi Airport Money Exchange
On arrival, there are plenty of currency exchange booths at Bangkok Suvarnabhumi Airport and some that are open 24 hours per day. 
If you need some cash to pay the taxi to your hotel, then just get some Thai baht upon arrival.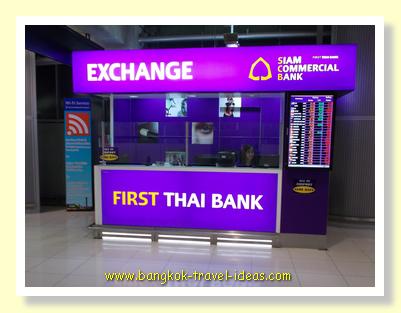 Currency Exchange Bangkok Airport
There are Bangkok Airport money exchange booths at the intersection of Concourse C and Concourse E, which is right next to transfer passenger processing area.
So for example if you have an onward flight to Chiang Mai, Phuket, Hat Yai, Samui etc. then convert some into Bangkok currency before you progress to the transfer desks.
For travellers going through Bangkok immigration, then there are Suvarnabhumi Airport currency exchange booths before the Immigration desks as described and also in the baggage hall after passing through Immigration.

Currency Exchange Bangkok Airport
Will I get a good exchange rate in Suvarnabhumi Airport?

The exchange rates in Bangkok Airport are better than your home country, but you can get a better rate if you get informed first.
Of course, any airport facility charges premium rents for stores to be located on their premises and Suvarnabhumi Airport is no different.
So the Thailand airport currency exchange rate given by these Bangkok Airport money exchange booths is not going to be as good as you can get from somewhere that has lower rents.
It makes sense that higher rents get passed onto the customer.
Currency Exchange Bangkok Airport
But if you are just changing enough for your taxi fare then use any of the Bangkok Airport money exchange booths to get your Thai baht, as the rate difference will not be significant.
But if you want to change a little more money to tide you over for a few days, then there is now a second option that will save you money and is still convenient.
Currency exchange experts SuperRich Currency Exchange (1965) Co.,Ltd, Happy Rich and Kasikorn have opened up currency exchange booths on the Suvarnarbhumi Airport Rail Link property down on the lower level, on the right-hand side of the ARL entrance.
This location is just off the Bangkok Airport property and it is this location, that makes the rates so much cheaper, because of the lower rents.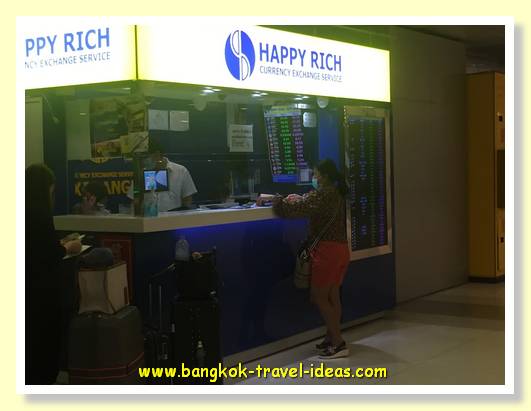 Happy Rich Bangkok Airport currency exchange
On both occasions that I have walked past, the SuperRich (1965) booth had a 10% better exchange rate for AUD and USD compared to the exchange rate booths inside the airport just a few metres away. (I didn't check all the others). 
Generally speaking the Super Rich Suvarnabhumi Airport Exchange will give the best Thai money exchange rate, but you can check each of the booths for your own specific currency, as there are likely to be slight differences.
How to Get to the Best Currency Exchange in Bangkok Airport
If you want the best currency exchange in Suvarnabhumi Airport, then when you leave the baggage hall via the middle Customs exit (Exit Gate B) and then take a left turn when you are in the hotel greeters area, you will see the down escalator on your left.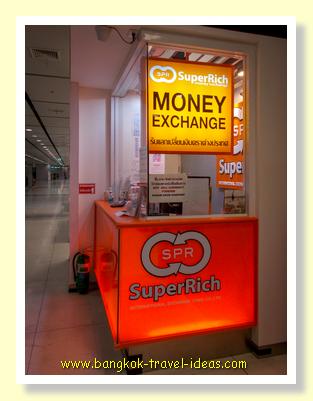 Currency Exchange Suvarnabhumi Airport
Take this escalator and walk towards the ARL station entrance and then walk to the right of the ARL entrance about 50 metres and you will see the three Bangkok Airport money exchange booths directly ahead of you, but now on the right-hand side of the ARL stairs.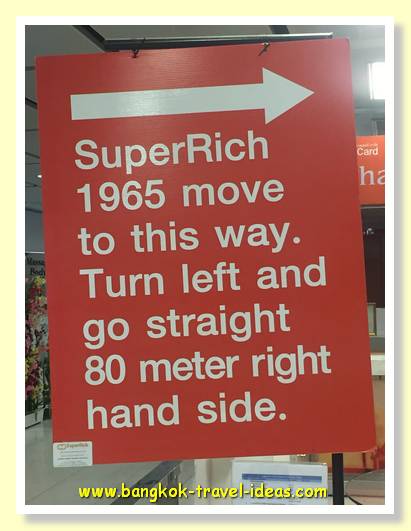 Directions to SuperRich Currency Exchange booth
The currency exchange booths are now located adjacent to the Boxtel@Suvarnabhumi and Avagard Capsule Hotel sleeping boxes.

Opening hours: 10:00 am - 08:00 pm (could change)
If you want to do more currency exchange rate calculations then you may also be interested in the:

This link shows the current live exchange rate for a number of popular currencies converted to the Thai baht.
Currency Exchange Booth Locations in Suvarnabhumi Airport
Where are the currency exchange booths in Suvarnabhumi Airport?
For arriving passengers, the currency exchange booths are located in a number of locations:

Concourse C and E
Baggage claim hall
Arrivals hall
Basement level (ARL area)
Upon arrival your BKK currency exchange should now go smoothly.
Where are the Bangkok Airport ATM Locations?
Bangkok Airport ATM Locations?
Some people are wary about carrying cash and prefer to use an ATM to handle their Bangkok Airport money exchange needs.
There are no Bangkok Airport ATM between disembarking your aircraft and the Immigration desks, only currency exchange booths.
But once you have been through Passport Control, then you can withdraw Bangkok currency from an ATM inside the Baggage Claim Hall.
Now, I can't possibly indicate the location of every Suvarnabhumi Airport ATM, but what I can tell you is that in the Departures hall on Level 4 (opposite the check-in desks) and adjacent to Door 2, you will find several ATMs that will accept International Credit Cards and you can withdraw your Bangkok currency from this area.
If you know of the location of any other Suvarnabhumi Airport ATM please contact me with the location and I will add it to this page.

Where to Exchange Money in Bangkok Airport?
Use Kasikorn, Happy Rich or Superrich (1965) currency exchange booths in the basement next to the ARL train station and convert just enough for your taxi and one day expenses.
For subsequent days, find a currency exchange booth near your accommodation and remember to take your passport with you.
Best Bangkok Currency Exchange Rates
Where can I get the best Bangkok currency exchange rates?
As a guide the table below shows the currently quoted exchange rates in Bangkok.
These rates are likely to change several times per day.
Where should I exchange money in Bangkok?
Superrich Thailand Head office or Superrich (1965)
Street based currency exchange office
Bank
Hotel
Airport, Super Rich Suvarnabhumi Airport Exchange
The preferred option to get Bangkok currency and most convenient for travellers, is the street-based currency exchange office.
Thai baht currency exchange booths are on every street in Bangkok, particularly around the tourist areas and the slight differences in exchange rate don't really warrant spending your time searching for the very best rate.
Some of the BTS stations have currency exchange booths, so this is also a convenient option.
The main banks in tourist areas can exchange cash, but will make a 5-minute transaction last 30-minutes and have lots of forms to complete and it is really not that convenient.
Your hotel will have daily limit that you can withdraw of probably around USD $100 and they may even only allow one transaction per booking stay. Emergency use only.
Arriving Passenger Services
Before concluding this page, consider if you need any of the following GetYourGuide services:
If interested click the link to check out their pricing.
Meet and Greet Fast Track
For economy class passengers there is still the option to speed your way through the Immigration line by using the pre-paid VIP Meet and Greet Service from GetYourGuide.
This includes a personal assistant to meet at the airbridge, help navigate the airport and expedite your immigration clearance step.

For travellers it removes a lot of stress, after a long flight to have this dedicated attention.

Visa on Arrival Fast Track
If you are a citizen of India, China or one of 19 other countries eligible for Thailand Visa on Arrival and flying directly to Bangkok, you can get your Visa on Arrival at Suvarnabhumi International Airport (BKK)

International travellers arriving under the Visa on Arrival category must proceed to the VOA processing area with necessary documentation and financial proof and obtain the necessary tourist visa before proceeding to passport control.
GetYourGuide offers paid services that reduce the waiting time and guide you through the Immigration procedure; you will be:
met at the airbridge by your host
assisted with the Visa-on-Arrival process
allowed access to the Premium Immigration Lane
assigned a baggage porter to arrange collection of your bags
escorted through Customs to your onward transportation

Bangkok Airport Transfers
Click the image below to learn more about the various paid Bangkok Airport transfer services available through GetYourGuide, if you need to book a van or limousine transfer.

Departing Bangkok Airport
What should I do with my Thai baht when leaving Thailand?
As you prepare to leave Thailand, you will likely have some local Thai baht left over, even after you have purchased that last meal or drink in Suvarnabhumi Airport.
Then what?
Well if you intend to return to Thailand, you can hold onto the Thai baht and use it for your next trip.
If you know that you never intend to return to Thailand, then you can convert your remaining cash at the Bangkok Airport money exchange booths in the International Departures Level 4.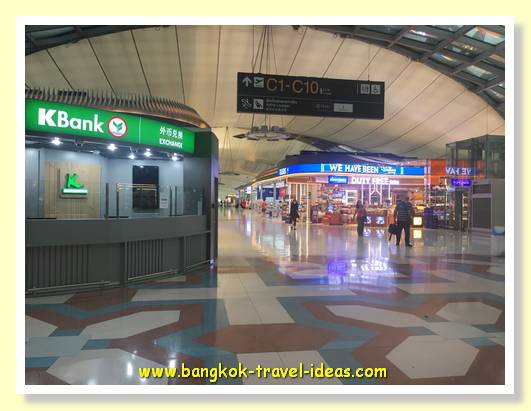 Bangkok Airport currency exchange booth Concourse C
In the case that you are not going home, but say travelling to Europe, then it makes sense to convert any remaining Thai baht into Euros before leaving.
This resolves the immediate problem of having enough cash when you arrive at Zurich or Frankfurt airports.
KBank has a currency exchange booth at the intersection of Concourse C and D and you likely find the same at the intersection of Concourse D and E.
Revised October 2022