Bangkok Airport Money Exchange
Looking for the best Bangkok Airport Money exchange?
If you are coming to Bangkok then some Thai Baht will come in useful, but there are many options to buy foreign currency for your vacation and some options are more expensive than the others.
Bangkok Airport Money Exchange
As a general rule, you will always get a better exchange rate if you bring your local currency to Thailand in cash and change it when you arrive.
If you bring more than the equivalent of USD $20,000 then you should make a Customs declaration when you arrive or else risk confiscation if it is found.
There are plenty of exchange booths at Bangkok Suvarnabhumi Airport that are open 24 hours per day and if you need some cash to pay the taxi to your hotel then just get your money upon arrival.
There are currency exchange booths before immigration and also in the baggage hall after passing through immigration.
As far as I know there are no cash machines before you pass through the Immigration and Customs areas.
Of course any airport facility charges a premium for stores to be located on their premises and Suvarnabhumi Airport is no different.
So the exchange rate in Bangkok Airport is not going to be as good as you can get from somewhere that has lower rents.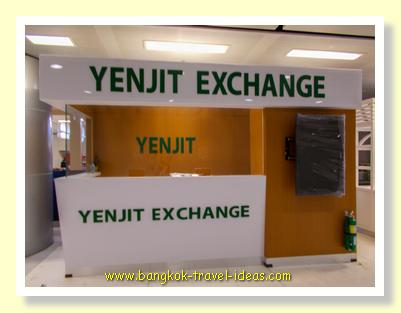 But if you are just changing enough for your taxi fare then use any of the bank booths to get your Thai Baht.
But if you want to change a little more money  to tide you over for a few days then there is now a second option that will save you money and is still convenient.
Both Superrich Thailand and Renjit have opened up currency exchange booths on the Suvarnarbhumi Airport Rail Link property down on the lower level near where you would purchase a train ticket.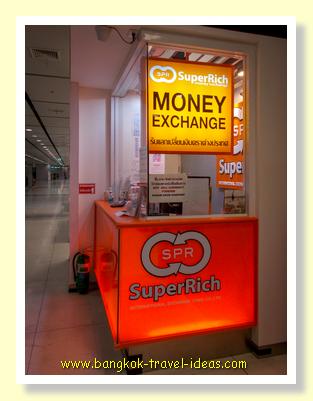 On both occasions that I have walked past, the Superrich Thailand booth had a 10% better exchange rate for AUD and USD compared to the exchange rate booths inside the airport just a few metres away. (I didn't check all the others). 
Renjit was still in the process of being built, but both booths were next to each other so they are in direct competition.
If you leave the baggage hall via the middle Customs exit and then take a left turn when you are in the hotel greeters area, you will see the down escalator on your left.
Take this and walk towards the ARL station entrance and you will see the two Bangkok Airport money exchange booths directly ahead of you.
Opening hours: 10:00am - 08:00pm (could change)
If you liked this then you may also be interested in:
Return from Bangkok Airport Money Exchange to Bangkok Layover
Return from Bangkok Airport Money Exchange to Home
---