Bangkok Airport Transfer Passenger Tours
Bangkok Airport transfer passenger tours can be taken if you have a gap between flights and need to wait at Suvarnabhumi Airport.
The tours cover various local attractions and range in length from 4-6 hours each.
Tour desks inside the airport are no longer evident as of June 2015 and the benefits for transit passengers no longer seem available.
Standard tour desks are still available after exiting Customs.
Bangkok Airport Transfer Passenger Tours
Are you eligible for a Bangkok Airport Transfer Passenger Tour and what benefits are you entitled to?
Well you are eligible to take one of the pre-arranged tours if you are "in transit" for between 6 and 12 hours.
This means that you can take one of the specially organised transfer passenger tours that comes with certain benefits.
You are exempt from the requirement to complete the landing card (Tor Mor 6) and you will be allocated to the express line to clear immigration.
All nationalities are exempt from the requirement for an entry visa.
Passengers are entitled to a VAT refund at the Customs Counter within Suvarnabhumi Airport.
The airport departure fee of 700 Baht is waived.
15 Transfer Passenger Tours
City and Temple Tour
Khlong Tour (Thon Buri Canal)
Grand Palace and Emerald Buddha plus Arts of the Kingdom Exhibition
Shopping Paradise (the best shopping street in the city)
Erawan Museum and Ancient City
Siam Ocean World & Siam Paragon Shopping Complex
Khlong Suan Market (Ancient Market) & Wat Sathor Wararam Worahihan
Massage and Spa
Siam Niramit (Dinner and show)
Aksara Theatre (Dinner and Puppet Show)
Thai Dinner with Classical Dance
Golf Tour Kiatthani, Windmill
The Rose Garden Thai Village and Cultural Learning Centre
Pom Phra Chulachomklao
Where do I Join the Transfer Passenger Tours?
You can contact the Transfer Passenger Tour Counter located in the departure area on 2nd floor Concourse F or you can go to the desk below that is located in the arrivals floor of Concourse C just near the transfer passenger Customs desk or a second desk at the intersection of Concourse D and E.
If the desk is not manned they are away on a tour.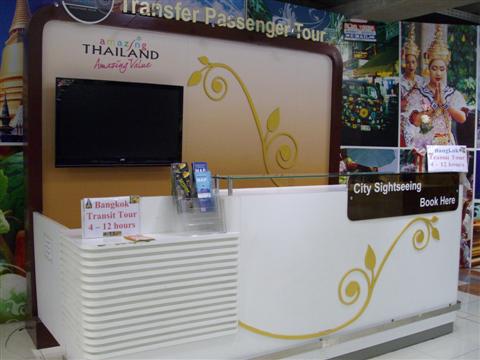 How do I get a VAT refund?
Shop at the store displaying the "VAT refund for tourist sign"
The total purchase from participating stores is not less than 5000 baht
Go to the Customs Office before Passport Control and get the Customs Stamp
Go to the VAT Refund Office after Passport Control
Luxury goods like jewelry, gold, ornament, watches, glasses, and pens with a value of 10,000 baht or more must be shown once again.
Claim for the VAT refund
Read a more detailed account of how to get a VAT refund, in the Bangkok Airport Shopping page for departing travellers.