Ancient City
Have you heard about the Ancient City in Bangkok?
With so many things to do in Bangkok and the selection of temples and shopping malls available to visit, you could be forgiven for overlooking the delights of Mueang Boran as it is known to the Thais.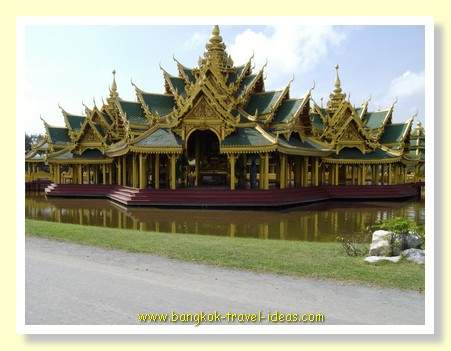 Located just 24 kms from Bangkok, not far from Suvarnabhumi Airport and the Erawan Museum, Muang Boran is a collection of famous buildings representative of the cultural history of each part of Thailand.
The park is set on 600 rai (25 hectares or about 63 acres) and the Ancient City comprises scale replicas of the original buildings from all parts of the country.
Originally, the concept of Lek Viriyaphant was to create a place of enjoyment and relaxation, but over time his focus was more on creating an open air museum for educational purposes and the park now includes over 160 separate buildings.
Unlike many Bangkok attractions this is not somewhere you can visit in a couple of hours, you are going to need a full day to travel around the site and even then you will not see every building.
Thailand has a strong cultural heritage influenced by the countries around it in South East Asia and it is all represented here in the Ancient City.
Buildings from the different historical periods in Thailand's past are all represented on this massive site and you get to see the various regions of Thailand all in one place.
---
How to Get Around the Ancient City
The Ancient City is too large an area to walk around, so you will need to select a suitable transport option.
If you don't mind hot weather and being out in the sun then you can rent a bicycle.
This is probably not the best option for the average tourist from Europe or Northern USA.
For large groups of people they have a private tram and guide that can take you around, but make sure you book ahead for this option.
With pre-booking this should work out to be less than 200 baht each after your admission cost and the guide will make sure that you get a comprehensive tour.
However the private tram is not air-conditioned, so whilst you won't be in the direct sun it will still be hot.
Whether it is unbearably hot will depend upon the time of the year and where you come from.
Believe me, for the most part, Thailand is hot even in the cooler months.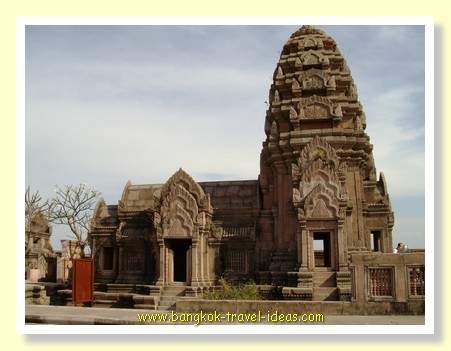 The last option is go around in a motor vehicle.
Personally this is my preferred option, because you have the added advantage of cooling down between stops in the air-conditioned comfort of your vehicle and you can stay as long as you like and look at the attractions in any order.
If you don't have your own vehicle then you could either use a hotel car or just arrange to have a taxi all day.
Either way, it is not going to be expensive.
When I visited I seem to remember that they also had small golf carts for hire but this does not seem to be currently promoted on the website.
Call the staff on +662-323-4094-9 for confirmation before you visit, if you want to check out this option and for more information.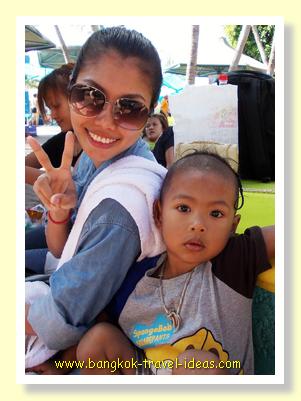 Ancient City Entrance Fee
Entrance fee for Foreigners Visitors is:
Adults 700 baht,
Children 350 baht
Entrance fee for Thai is:
Adults 350 baht,
Children 175 baht and
Motor Vehicle 400 baht for foreigner and Thai (June 2021).
If you need an English speaking guide for 2 hours it costs 1500 baht.
There is a little restaurant on site you can get yourself some lunch and take a rest and stock up with water or soft drinks.
If you are compiling a list of things to do in Bangkok then make sure that you add Mueang Boran to your agenda.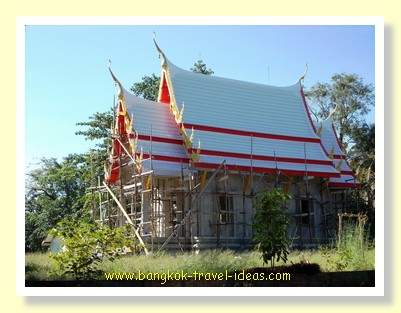 ---
How to Get to Mueang Boran
Use the Google map below to get your driving directions or take the BTS to the Bearing station and then get a taxi.
The hotel concierge can write the address down for the taxi driver for you.
296/1, Sukhumvit Rd., Bang Pu, Muang Samut Prakan, Samut Prakan, 10270, Thailand.
Alternatively you can take the BTS Green line from Siam, which takes around 45 minutes to get to BTS Kheha and on Saturdays and Sundays there is a free shuttle service to get to Mueang Boran.
Other days you can take a taxi to get to the park.
Sanctuary of the Truth
If you enjoyed the Ancient City then you may also like one of Lek Viriyaphant's other follies, called the Sanctuary of Truth, which is located just near to Pattaya.
The Sanctuary of Truth is a wooden religious construction in Pattaya, Thailand, which is based upon the original Hindu and Buddhist designs.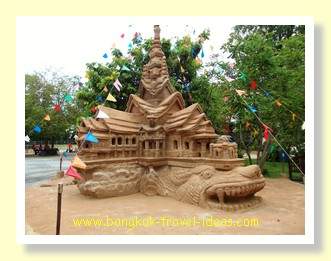 The whole building is more than 105 metres high and is encased in grounds of more than two rai.
The work of carving the structure is still ongoing and is not expected to be complete until the year 2050.
The project was initiated as an idea of Thai businessman Lek Viriyaphan in 1981, and is scheduled to be completed in 2050.
The main idea of the temple is to show that all religions lead to the only one Truth and it is a site to be seen.
The Sanctuary of Truth is located very close to the Centara Grand Mirage Beach hotel.
I have stayed here myself in a suite room and it was amazing.
Get more information on availability and pricing of the Centara Grand Mirage Beach from Agoda.