World's Largest Crocodile Farm
Visit the Bangkok Crocodile Farm at Samut Prakan for a great couple of hours.
Here is some Bangkok tourist information and a quick overview to help you plan your trip once you get to Bangkok.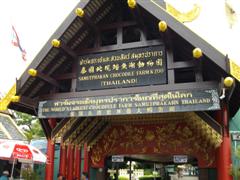 Samut Prakan Crocodile Farm
It is not very expensive to go into the reptile park and it is just worth visiting the Samut Prakan Crocodile Farm to see all the reptiles and of course the crocodile show.
Actually there is so much more there to see, that you could spend the best part of a day looking at all of the animals on display.
The day that we visited was the weekend and to be honest it was pretty quiet, although it is a big park and can hold thousands of visitors at any time and it still would not look full.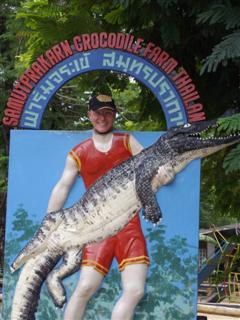 As you walk around the park you will come to some crocodile enclosures and you can stand on the walkway and take photographs of the crocodiles beneath you.
Have you ever wanted to feed a chicken to a crocodile?
The nearby stall has whole chickens for sale that you can drop down and feed to the crocodiles below.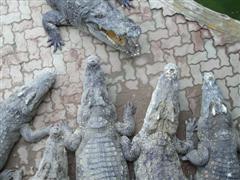 Some of them are absolutely huge; the crocodiles not the chickens.
The water is very murky and the smell from the crocodiles is fairly strong so you probably won't want to wait around too long.
When you drop the chicken over the edge of the rail down into the pond is when you see the crocodiles come to life.
If there is food involved they can move quickly.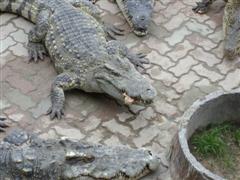 Crocodile Show
Now we move onto the crocodile show which in our case started at 2:00 pm.
This is really the highlight of the visit, you just have to see it to believe it.
These reptiles are not as big as the ones in the other pond but if they snapped their jaws shut then I think you would lose a limb for sure.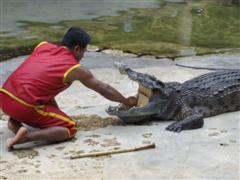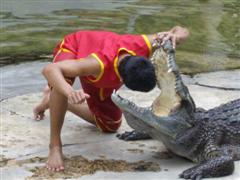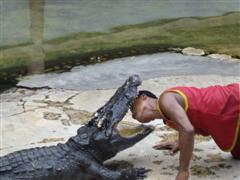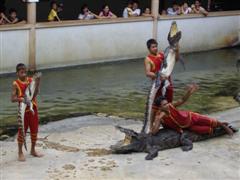 This show was one of the scariest things that I have seen. For a few dollars these performers are absolutely risking their lives.
If you search YouTube I am sure you will find a clip where it all went horribly wrong.
Even so they put on an entertaining act for the audience.
How to Get to the Crocodile Farm
Take a taxi or now that the BTS extension to Bearing is open, you could take the Skytrain there and then take a taxi to the crocodile farm.
Located quite near to the Crocodile Farm is the Bang Pu Nature Reserve that is well worth visiting whilst you are in the vicinity.
This place is also known as Bang Pu Seaside Resort.
Why not go and look at the sunset over the Gulf of Thailand and if the season is right you will get to feed the migrating birds.
Don't forget your hat and plenty of tissues.
Bangkok Google Map
No brief overview could ever do justice to the diversity and variety that each area of Bangkok exhibits, but a few words of description of the key features around town, may help you make a decision about where to stay in Bangkok.
To assist in finding all the good stuff, Bangkok Travel Ideas have created a unique Bangkok Google Map that will open in its own window.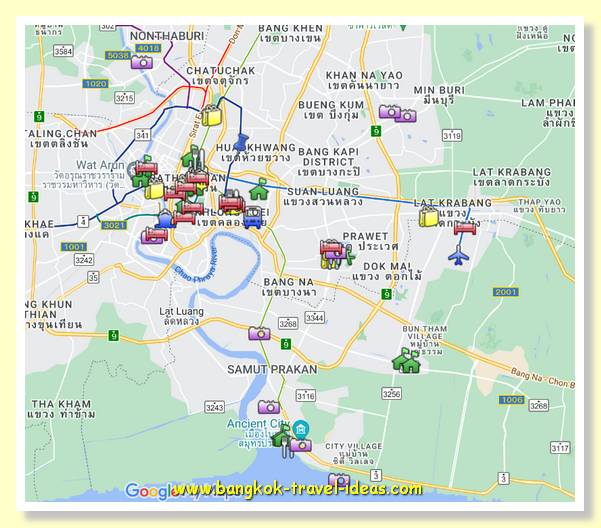 Bangkok Travel Ideas Google Map of Bangkok
The BTI map opens with Bangkok as a centre, but expands to cover all regions of Thailand that are covered in this website.
There are links to places of interest and recommended hotels in that area.
When planning your next Thailand trip, explore each of the regions and select from one of these many areas to stay as shown described in my Bangkok Google Map.