Bang Pu Nature Reserve
Bang Pu Nature Reserve is located in Samut Prakarn province just outside of Bangkok.
It seems also to be known as Bang Pu seaside resort amongst the locals and is a favourite place for Thais to come visit and feed the birds.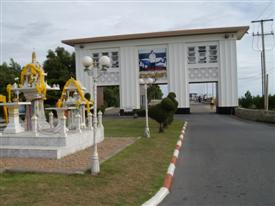 Large flocks of seagulls migrate here between October and February so the best time to come and see the birds is January through April, but make sure you wear a hat so nothing lands on your head and take some tissues with you just in case.
The Nature Reserve with its Sakdi pier jutting out into the ocean was initially established in 2004 for the 72nd birthday of Queen Sirikit and consists of a garden, pier and restaurant.
But this is no ordinary nature reserve; this is a nature reserve located in an Army base on the coast of Samut Prakarn and it is jointly run by the Royal Thai Army and the Thai World Wild Life Fund.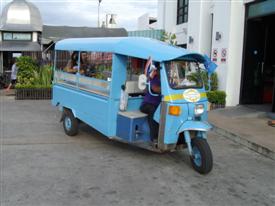 As well as this unusual combination, inside the restaurant there is a stage and dance floor and they host ballroom dancing competitions on a Saturday evening.
I bet you didn't expect that.
Try to aim to arrive around 5:00 pm on a Saturday evening and go into the army base, along the drive and then park your car.
If you go in a taxi he may take you all the way to the door.
But otherwise, from the car park take the small tuk tuk to the white building on the pier and go inside.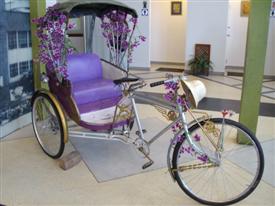 In the entrance hall you will see a restored Sarmlor or three wheeled bicycle, that was for carrying persons around the town.
You won't see these anymore in Bangkok as they have all been replaced by motorised tuk-tuks, but if you go up to Surin on the way to Ubon Ratchatani they are still in use around the town and even if you go to Korat they are in daily use.
Hua Hin has them also, but they are mainly for the use of tourists.
The whole building in the complex is one massive restaurant with seating inside and out.
Ballroom Dancing at Bang Pu Nature Reserve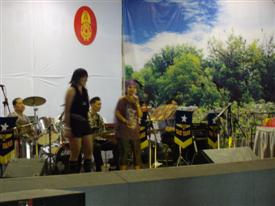 Choose yourself a table close to the dance floor, it is going to cost you an extra 50 baht per person so make sure you go to the ATM before arriving.
The dancing starts off for fun in the beginning, but as the night wears on it becomes much more serious as the dancers vie for first place and the inevitable prizes.
There are foxtrots, waltzes and modern dance to grab your attention.
The restaurant isn't going to be in next years Michelin guide but it is good Thai food at a reasonable price.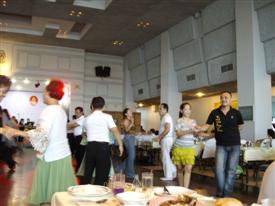 All the cooking is done by Army staff so the portions are ample.
Guess what; treat of treats, there is no corkage charge, so bring a nice bottle of Mont Clair from Tesco Lotus or even a 2L cask if there is a bigger group (fits nicely on the little drinks cart).
The staff will even bring you the best wine glasses, although I suspect they may take a little finding.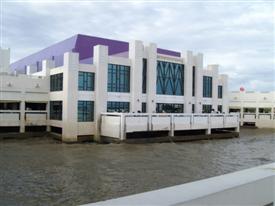 Toast your friends, eat your way through plates of seafood, watch and enjoy the dancing and if your are really feeling game why don't you get up and take your lady for a little spin around the dance floor.
It is a great deal of fun.
Depending upon the time of year when you visit Bang Pu Nature Reserve there may be lots of wild birds or none, but you are going to have a great time anyway.
Why don't you call in to the Bang Pu Nature Reserve when you take a trip to the Ancient City as they are not far from each other.
If you are interested in Thailand Buddhist temples then the magnificent Wat Asokaram is also in the vicinity and well worth a visit.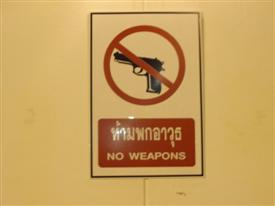 Oh, and just in case your were thinking of bringing your gun, you should know that The Royal Thai Army decrees that no weapons are allowed.
It is an Army base after all.