Stay in Phuket
Want to stay in Phuket, Thailand?
Phuket is one of Thailand's most popular beach destinations and is a favourite with European tourists escaping the cold northern winter.
Where Should I Stay in Phuket?
Generally speaking, the island of Phuket is extremely commercialised and caters primarily for overseas tourists.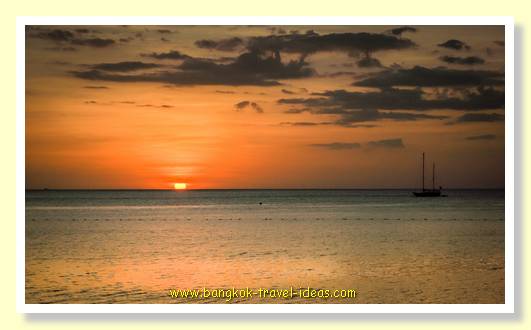 So if being in a sunny location with nice beaches where you can get pizza, German sausage and paella instead of traditional Thai food is what you want, then the beaches of Phuket could be for you.
Phuket is both an island and a province and the main town is called Phuket town.
What you may not know is that the island of Phuket is not cheap and in fact it is the most expensive of all the Thailand holiday destinations.
But people love it and Europeans, Americans and Australians arrive in ever increasing numbers year after year.
If your dream is to stay in Phuket and get some winter sun during the Northern Hemisphere winter, there are some amazing resorts that offer all inclusive packages that are very appealing for well to do tourists.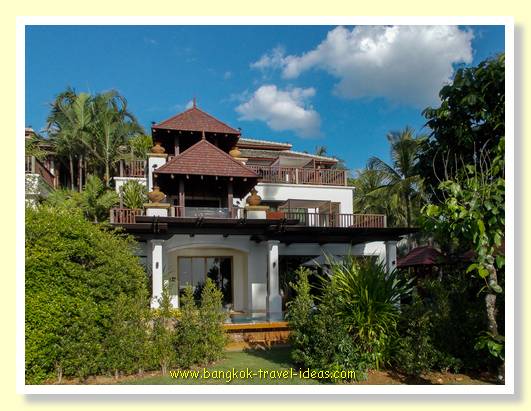 For those on a budget there are also lots of cheaper options that won't break the bank.

Scouting around the internet for the more remote hotels or travelling out of the peak season will provide the best bargains for the savvy traveller.

Let me outline my recent trip to Phuket, which was shared amongst three Phuket hotels, that ranged from high flying accommodation to basic cabin accommodation. First stop was: 
JW Marriott Phuket Resort and Spa on Mai Khao beach, followed by
basic cabin accommodation at the:
This was all taken on a TripAdvisor recommendation and finally completing the stay in Phuket, with a fantastic experience at the recently built:
Destination Resort Karon Beach Resort and Spa.
Getting to Phuket
For those arriving in Bangkok at Suvarnabhumi Airport, it is a simple exercise to transfer from the International flight to a domestic flight, as both terminals are located in the same building.

Immigration clearance takes place in Bangkok and Customs clearance of your checked baggage will take place at Phuket Airport.

When you arrive at Suvarnabhumi Airport make your way to the Immigration area located at the end of Concourse C. 
The transit desk staff should give you a yellow CIQ sticker to put on your shirt, when they see you plan to stay in Phuket.
This identifies you as being in transit.
Pass through immigration and go to the Domestic terminal.
The CIQ sticker may help you remember to collect your luggage; it is also your entry pass into the International arrivals baggage area at Phuket Airport, so don't throw it away.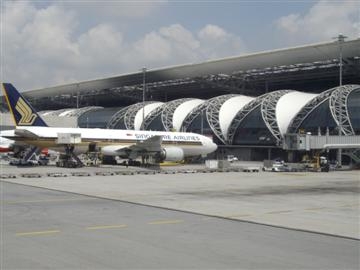 After landing at Phuket International Airport, walk across the tarmac to the building and just follow the other passengers to the domestic baggage hall.

Phuket Airport is pretty small so you are not going to need any guidance to get around.

Pick up your luggage from the domestic carousel or if you transferred from an International flight walk around to that area. This is where you need that CIQ sticker.
Don't go out the exit doors by mistake or you will waste valuable time trying to get to your baggage.
Make sure you don't exit Phuket airport before collecting your baggage, as your bags will come off on a different conveyor belt to the rest of the flight.
Think on, as Grandma used to say.
JW Marriott Phuket Resort and Spa
The JW Marriott Phuket Resort and Spa is located about 30 minutes' drive from the airport heading away from Phuket town.
It is easy to get there by taxi from Phuket Airport.
The resort is fully contained and you could easily spend your entire stay here and not have to leave.
This type of holiday suits many people, I know.
The JW Marriott Phuket Resort and Spa is located on one of Phuket's longest and arguably nicest beaches.
Mai Khao Beach is 10 km of sand stretching from the Sarasin Bridge down to Phuket International airport.
The promontory below is where the planes land at Phuket airport, you can see them coming into land, but you won't hear them.
I am not even sure you would hear them if you stay in Phuket town.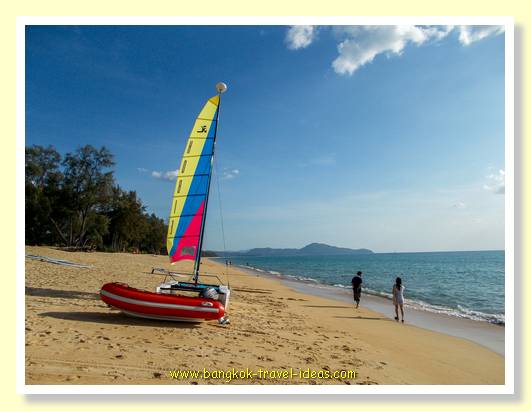 The rooms at the JW Marriott Resort and Spa are well appointed and on several different levels, but you should expect to walk a couple of hundred metres from your room to breakfast.
Mostly this is undercover, so if there is any rain, you won't get wet.
This level of spaciousness though, can catch some people unawares, and so if you have mobility issues, advise the hotel at the time of booking so appropriate arrangements can be made to locate you closer to the facilities.
Overall the grounds are flat and if you can manage two half flights of stairs, getting around should not be too much of a problem.
As far as shopping goes, there are a few shops on site serving the captive market and a small shopping complex on the entrance road where they sell swimwear and suncream etc.
---
JW Marriott Phuket Resort and Spa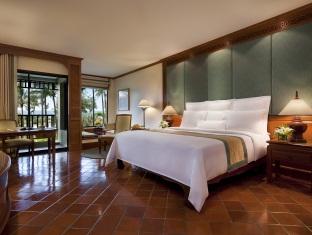 Guest room at the JW Marriott Phuket Resort and Spa
The JW Marriott Phuket Resort & Spa is not far from Phuket International Airport and located on the expansive and quiet Mai Khao beach area.
Rooms are comfortable and well appointed and are situated in landscaped gardens.
All standard facilities expected from a high end hotel are available.

Whether you like to laze around the pool or take a dip in the ocean, you are sure to enjoy yourself in this relaxing atmosphere, where service is only a call away.
No matter what your reason to stay in Phuket, the JW Marriott Phuket Resort & Spa will make you feel instantly welcome.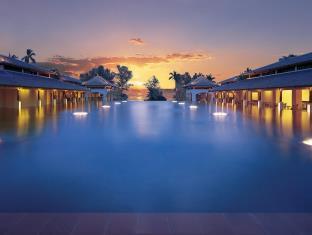 Exotic landscaped grounds when you come to stay in Phuket
From USD $299  
LIMITED AVAILABILITY
---
To start the day the breakfast layout is a splendid affair, with a range of treats to suit all guests.

Take your tea, toast and scrambled eggs out onto the first floor veranda and marvel as the day begins to dawn and the last of the pool cleaning activity takes place.
Guests are invited to laze around on the beach during the day or just relax in some of the many swimming pool areas.
There are so many pools to choose from that you could literally sit around a different one each day.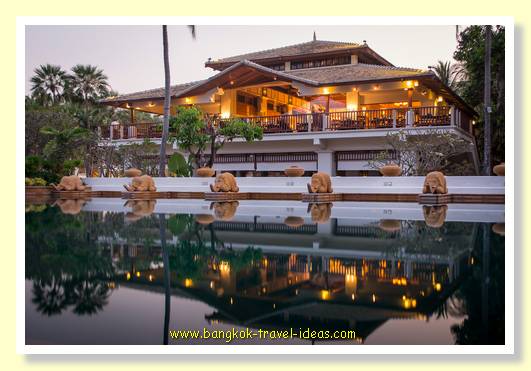 The hotel has its own massage and spa facilities, but if you just like a good old traditional Thai massage, then I suggest you use the small tents set out towards the beach area.

There is nothing like being out in the open air with the smell of coconut oil, whilst someone massages the knots out of your back and loosens up the legs.
If you are going to stay in Phuket then you would already know that many of the beaches face the setting sun, and Mai Khao Beach is no different.
The hotel's aspect means that the sun sets across the water and so having evening drinks down by the pool area is a great way to end the day and enjoy an amazing sunset.
Periodically there is a lantern lighting dance that performers demonstrate to the sound of a beating drum just as the sun is setting.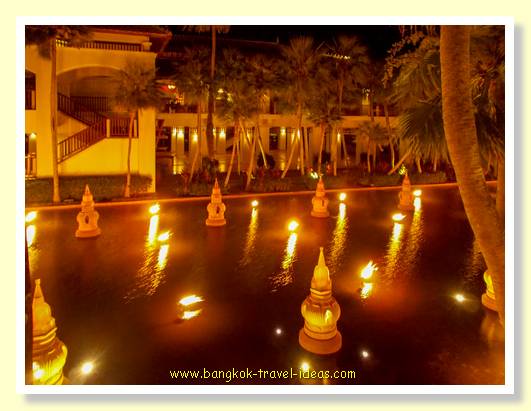 This performance has to be seen to be believed, wait until you go, or check out my video if you just can't wait.
Surin Beach
One of the nice areas to visit when in Phuket is Surin Beach, which can be reached easily by car or van.
When you come to stay in Phuket with its amazing choices of sunset viewing locations, then make sure you take time to enjoy watching the sunset from the sands of Surin Beach.
With its seafront bars and back drop of coconut palms, the sunset at Surin Beach is an experience not to miss.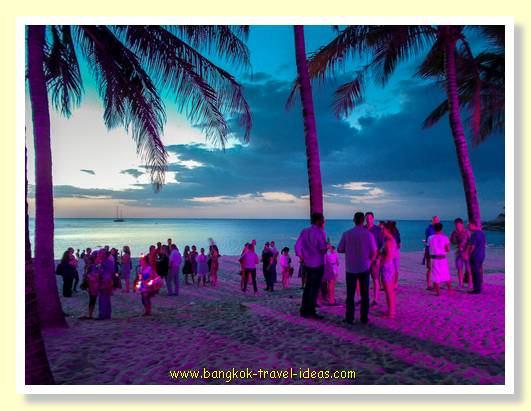 Surin beach is located about 45 minutes from the JW Marriott hotel on the other side of Phuket Airport.
There has been a recent amount of construction around the Surin Beach area but there is a nice bar and restaurant located on the beach itself, though you should probably book as it gets quite busy.

When you stay in Phuket be sure to take one of the daily excursions to the nearby islands.
Day trips to the well known James Bond Island, leaving from Phuket Marina or even sunset drinks down at the popular Phuket waterfront should be on your itinerary.