Two Bedroom Suites in Siam
Two Bedroom Suites in Siam
Two bedroom suites in Siam, Bangkok are not easy to find, but the Siam Kempinski Royal Suite may be just what you are looking for.
Located in the Bangkok district of Siam there is easy access to all the brand name shopping that Bangkok has to offer.
High fashion or exclusive jewelry can be found at the nearby Siam Paragon shopping complex, where all the well known brands are showcased.
Even if you are not a discount shopper there are great deals to be had on the Siam Kempinski Royal Suite and if you get in early there are even bigger savings to be made on the standard room rates.
Check out the location on the interactive maps and find other hotels in the Siam area.
Two Bedroom Suites in Siam
---
Siam Kempinski Hotel Bangkok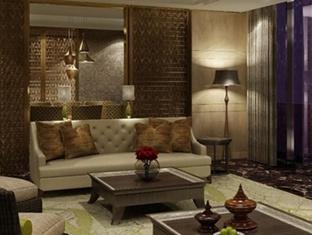 Siam Kempinski Royal suite in Bangkok
The Siam Kempinski Hotel Bangkok Royal Suite covers 420m including a 120m terrace.
Enjoy the ultimate in luxury as you entertain your family and friends overlooking the very best that Bangkok has to offer
Siam Kempinski Hotel Bangkok is a popular choice amongst travellers in Bangkok, and combines Thai hospitality with a lovely ambiance to make your stay in Bangkok unforgettable.
Discount Rates
2 BR Suite From USD 6450
---
As well as the Royal Suite, the Siam Kempinski has seven animal themed two bedroom apartments that are just ideal for families.
The availability of two bedroom suites in Siam is very tight and they are highly sought after, so if you didn't find what you want then perhaps have a look at the other areas in Bangkok.
The Siam area hosts a variety of shopping venues for the discerning visitor looking for iconic brands.
Central World
Siam Paragon
Gaysorn Plaza