Ao Nang Beach Hotel
... continued from Ao Nang beach and we are now heading for our Ao Nang beach hotel.
Best Ao Nang Beach Hotel
The minivan from the Centara Grand Ao Nang Beach Resort drove along the beach road of Ao Nang and dropped us right at the entrance to the Peace Laguna Resort and Spa.
The hotel was in a great location, it was down a side street off the main road, probably about 300 metres from the main beach of Ao Nang. 
You really could not ask for a better location for an Ao Nang Beach Hotel, is what I thought upon my arrival.

I selected this Ao Nang hotel entirely from comments made on the Tripadvisor and Agoda websites after reading other trip stories from visitors to Krabi.
Although Ao Nang is primarily a family destination and there is not a wild nightlife scene, there was one area of the town that was commented as being noisy, due to a large complex of beer bars.
When you are selecting your accommodation in Ao Nang, just be sure to avoid this noisy area, unless you are going to keep bar hours.
The Peace Laguna Resort and Spa was far enough away from this area to avoid the noise, but was close enough to the shops and restaurants etc. to make it very convenient.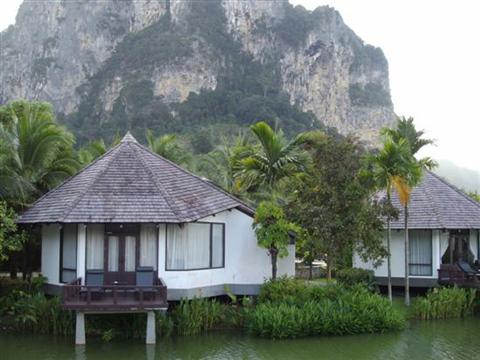 The Peace Laguna Resort and Spa has various room types in the resort, but I selected one of the "Private Cottages" which were located in and around a central lagoon.
The room came with a "Balinese shower" for which you can read "outdoor shower" and a Jacuzzi, which you can read, "big bath with bubbles". 
The Private Cottage room was plenty large enough for two people and was located next to a communal swimming pool that was shared with a number of the other private cottages.
The room also had a view over the lagoon and a small terrace which was very nice.
Peace Laguna Resort
The Peace Laguna Resort is located a short walking distance from the beach down a quiet road.
The resort features three swimming pools, a selection of rooms with magnificent views of the large limestone cliffs and an open air breakfast environment as well as an all-day restaurant serving Thai and Western dishes.
The family atmosphere and the convenient location goes to make this an ideal base to explore the Ao Nang and Krabi area and the resort is just a short walk over to the shopping and night life areas.
Transfers to Krabi airport and day trips to Phi Phi island can be arranged direct to the front door of the resort.
If you are looking for an Ao Nang beach hotel then you are sure to enjoy the Peace Laguna Resort.
rates per night from
USD 140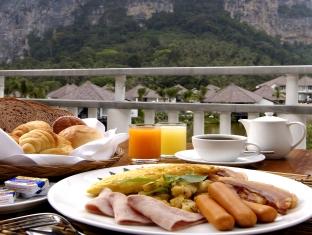 ---
Unlike Centara Grand Beach Resort and Villas where we had spent all the time in the hotel grounds, the reason for coming to this Ao Nang beach hotel was to get out and about and wander around the town of Ao Nang and find things to do in Krabi.
So without wasting any time we set off walking to explore Ao Nang, firstly to go and get something to eat and secondly to get some ideas of where to go on the following day.
Things to Do in Ao Nang
From the Peace Laguna Hotel, we walked about 200 metres down to the sea front, which is the corner where all the boat tours leave from.
To the left was an area with more hotels and resorts and further along there were dozens of massage tents and places to eat.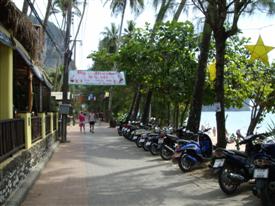 If you are looking or a nice Ao Nang beach hotel right opposite the beach, then there were some quite nice places in this area, which I would consider staying at if I go again.

The hotels were located close to the water and it looked a really good spot to stay.
If you continue on this pathway to the left, it takes you onto the Monkey Trail that leads over to another Ao Nang beach hotel, the Centara Grand Beach Resort and Villas.
If you look over to the right then this is the way to the main beach road and shops.
We went to the left to find somewhere to eat and came across a small outdoor noodle shop.
This was a great place to stop and eat and have a bit of a relax in the restaurant shaded by trees and with a nice view of the sea.
Although there were not many people around, this area was set up for hundreds of tourists, but at the time we went if was probably only 25% occupied.
After eating lunch the rest of the afternoon was spent slowly wandering through the shops scattered along Noppharatthara Road which is the main road that follows Ao Nang beach.
Towards 4:00 pm a heavy thunderstorm came over Ao Nang and we had to take shelter in one of the restaurants that overlooked the sea.
This was a great opportunity to have some ice creams and take in more of the sea view, so we ordered ice creams and took a seat alongside the water.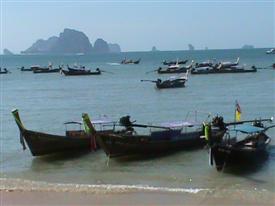 Between 4:00 pm and 6:00 pm is when the long-tailed boats start to return from the day trips.
All along the beach there were passengers disembarking, having spent the day touring the local islands or snorkeling and loaded down with lunch boxes and snorkeling equipment.
The number of boats returning started to increase dramatically as time went by.
For this reason this western end of the Ao Nang beach would not be really good for swimming and sunbathing, because of the number of boats arriving and all the people trailing across the beach.
The eastern end where all the massage tents are located looked a lot quieter.
After finishing the ice creams we wandered back to the hotel for a rest and on the way stopped in one of the many travel agents and purchased tickets to go to Phi Phi island the following day.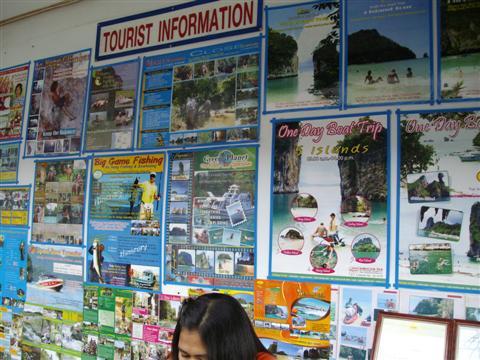 The travel agents just have so many tours on offer and so many different places to visit that the choice is a little overwhelming.
There are fast boats, slow boats, snorkelling trips, multiple island trips and it is all priced differently so it is not easy to see if you are getting value for money.
To cut a long story short we chose to go on the Ao Nang Princess, which is basically the ferry boat that goes via Railley Beach to Phi Phi island directly from Ao Nang.
It is not the quickest way to go but at 650 Baht return each it was also not the most expensive and it included pick up and drop off at our hotel.
I had never been to Phi Phi Island and so was looking forward to the journey the following day (Just note that the English pricing brochure quoted the return fare as 850 Baht so you do have some room to negotiate the price down).
With our tickets in hand we headed back to our Ao Nang beach hotel for a rest.
Although the temperatures were not that high, the level of humidity due to the thunderstorm made the constant walking quite tiring, so we were glad to finally make it back to our Ao Nang Beach Hotel.
Ao Nang Beach Hotel Nightlife
In the evening we left the Peace Laguna and took a right turn at the main road, walking away from the beach area and passed by the beer bars that were just coming to life.
There were a number of seafood restaurants and other places to eat in this area.
Some had tanks of live fish and others with fish and prawns on ice.
We selected a place at random and then ordered a variety of seafood, all washed down with a nice cold beer.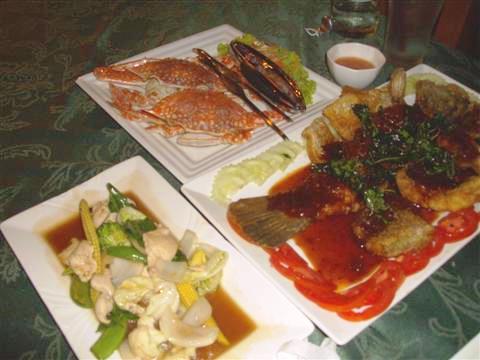 After we had finished eating, we continued to walk further in the same direction where they had a number of bars where you could sit outside and drink and just generally chill out.
Seeing one bar that we liked, we settled in to listen to the music, whilst sipping on a couple of cocktails to get the night started.
As time wore on it transpired that there was going to be the inevitable fireshow, as a performer turned up with his sticks, ropes and containers of diesel fuel.
Normally these fireshows are performed on the beach, but the problem was that the only place he had to perform was on the pavement, which forced the passers by onto the road.
But that didn't deter him and neither did the chance of splashing burning diesel onto the parked cars.
Once the music was pumping he was up and away.
Anyway as fireshows go, I gave him a 5/10 for effort, but he was let down by the fact that he was working solo and the choice of music wasn't really appropriate.
Good effort though.
The best fire shows I have ever seen have been at Ploy Talay Restaurant on Sai Kaew Beach, Koh Samet and on Whitesand Beach, Koh Chang.
Anyway the bar had a good atmosphere with many young tourists and families.
Oh, just a warning for those of you that think that the locals like to give out drugs to their new best friend because they like you.
Well you are likely to find a surprise Police raid and being marched down to the police station and a bit of explaining to do to your parents.
You wouldn't act like that at home, so don't act like that in Thailand. Drug offences carry very serious penalties.
Never accept drugs from strangers.
Surprisingly simple tips like this cost me nothing and save you from becoming a worry to your family.
The walk home was uneventful in a meandering sort of way and so ended the first day in Ao Nang.
I am glad that I did a bit of research on TripAdvisor before selecting our Ao Nang beach hotel, because it was located in a good position and away from the noise.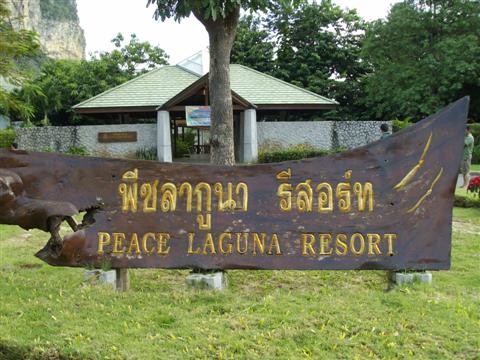 Phi Phi Island - Day Trip
The next day we headed to Phi Phi island so continue reading my Phi Phi Island trip report here. 
---