Traditional Thai Massage
Take time out for a traditional Thai massage in Bangkok when you next visit Thailand.
Experience the relaxation of having your muscles rubbed and pressed and come away feeling invigorated and with a spring in your step.
Bangkok Thai massage shop in On Nut
What happens in a Thai massage shop?
If you are wondering what happens in a Thailand massage shop, then let me explain what is involved.
For many people on their first visit to Thailand this will be the first time to experience the inside one of these Bangkok massage shops.
So let me outline a typical massage in Bangkok that is available widely across the city.
Literally there are Bangkok massage shops on every corner and it is really affordable to have a one or two hour experience.
Bear in mind that you have a choice of a Bangkok Oil massage or a Traditional Thai massage and I will just be outlining the Traditional  Thai massage here.
Some authentic Thai massage oils are available from Amazon, ready for your return home.
Visit the Amazon links below to purchase.
What Happens in a Thai Massage Shop?
The Thai massage happens like this:
Step 1. Choose your Thai massage and duration

Step 2. Change your clothes

Step 3. Wash your feet

Step 4. Lie down and relax

Step 5. Make like a pretzel

Step 6. Don't forget to tip
Step 1. Choose Your Thai Massage
After entering the shop and taking off your shoes, you need to make your choice of Thai massage style; either traditional Thai massage or the Thai Oil massage.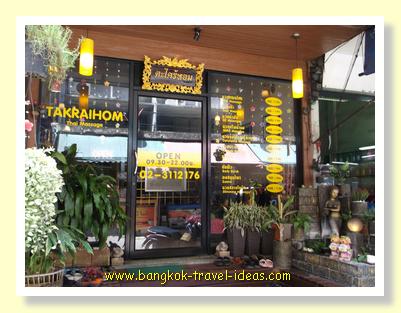 In Thailand the Traditional Thai massage and the Bangkok Oil massage generally come as a one hour or two hour session.
Just decide how long you want to relax for and go for it.
These two types of massages are similar, but the Bangkok Oil massage requires you to be naked, or nearly so.
After showering, you may be given some disposable underwear to put on, or simply covered with a cloth as the massage progresses.
I will just describe the Traditional Thai massage now to give you the flavour of what is involved when you enter one of these Thailand massage shops.
Step 2. Change Your Clothes
Usually the massage room is set out with a number of mattresses on a raised base with the beds segregated by curtains and they will have some relaxing music playing in the background.

After a masseuse is allocated, you will first be given a pair of loose fitting trousers and a shirt to change into.
Some places will have a small change room, and in other massage shops you can draw the curtains around your massage mattress and change in there.
If you use a change room, then remember to take all your belongings into your massage cubicle with you, after you change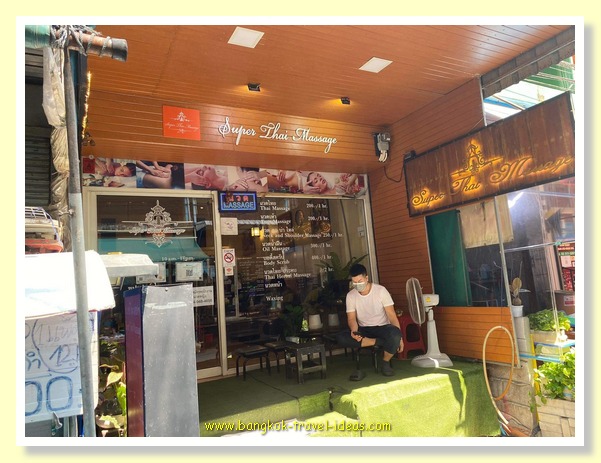 Best massage in Bangkok can be found in Massage Street
You can either lay them near the pillow, or you may find a hanger on the wall, that can be used.
If you keep your belongings with you, then you will have no worries about any valuables you have brought along.
If you are provided with a locker key then place your clothes in the locker.
Whilst you are changing your clothes to get ready, the masseur will go and get a bowl and some warm water.
She will then return and proceed to wash your feet to clean them.
Step 3. Wash Your Feet
In some Thai massage shops she will use her hands and sea salt and at other places you might find she will use a scrubbing brush to clean your feet.
If you are at all ticklish this washing process could be more than you can bear.
After washing, your feet will be dried off with a towel, the bowl put away and the massage will start.
The massage that you get will be very specific to the masseur and the school where she was taught and it is unlikely that that you will get the exact same massage anywhere else.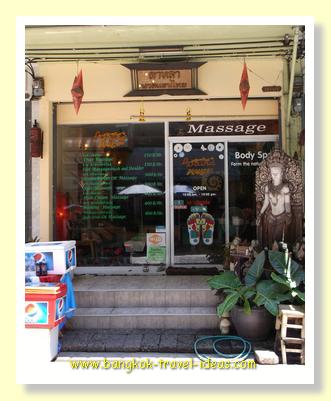 Although all Thai massages are different, they basically follow the same format.
Some masseurs will do the bottom half of the body and then the top and others will do the left side and then the right side.
Personally I prefer them doing the legs first and then working up from top to bottom, rather than massaging all the left side and then the right side.
First she will start by massaging the feet, legs, then arms and hands, followed by getting you to turn over onto your front and massaging your back.
The traditional Thai massage is generally done through the pyjamas without the masseur touching the skin.
If the massage room has air-conditioning the masseur may also cover you with a light blanket to prevent you getting too cold.
At various stages the masseur will perform a technique to stop the blood flow for about 30 seconds by constricting the artery.
She may do this by pressing on the groin or just near the armpit.
Step 4. Lie Down and Relax
When the pressure is released and the blood flows there is a sense of relaxation and warmth that flows over the body.
This technique is not recommended for people with diabetes or heart conditions.

Very often the masseur uses her hands, forearms, elbows and feet to loosen up those tense muscles, as she works her way around your body.
Some of the smaller ladies will walk along your back, using their full body weight to crack the joints in your spine.
It sounds strange, but it feels so good.
If during the massage you experience some pain or discomfort, then the masseur may apply some heat gel, such as Tiger Balm, directly to the skin.
You can even request that certain areas are focussed on more than others, if necessary.
You can request more or less pressure as needed to relax those knotted muscles.
After the massage of the torso is complete, the next place to be massaged is your head and face, but before doing so the masseur will go and wash her hands.
The head is considered a very sacred part of the body, so it is important to massage the head with clean hands.
Also, if she has used any heat balm, you wouldn't want that all over your face, so it makes sense.
In some traditional Thai massage shops the masseur will also ask your permission before touching your head.
Bangkok Thai massage shop
At this point the masseur will be seated at the head of the bed and you will lay down with your head on a cushion placed strategically on her lap, between your head and her body.
Very often the head massage will send you to sleep, as it can be so relaxing.
Here the focus is on pressure points around the sinus and the other meridian lines.
Step 5. Make Like a Pretzel
After the head massage is completed you will sit up cross legged and this is when you will probably get turned and twisted into a pretzel.
If you do have any back problems, then you may need to skip this part, or at least advise the masseur of your condition.
Rompho Massage in Sukhumvit 77/1 (Massage Street) Bangkok
Up until now the whole massage has been very relaxing, but this last stage can involve a lot of stretching and twisting.
Before you know it your traditional Thai massage will be over and this is signified by hand chops on the back followed by stroking and a "finished Sir or finished Madam".
The masseur will now leave so you can get changed back into your street clothes.
After getting changed, just place your pyjamas on the mattress and go to the front of the shop, where there will be a warm cup of tea and your shoes waiting for you.
Drink your tea in a leisurely manner and continue to relax, put on your shoes and pay the cashier.
Step 6. Don't Forget to Tip
The masseuse will probably hold the door open for you as you leave and this is a great point to give her a tip, to show your appreciation.
How much should I tip for a Thai Massage? 
Tipping is optional, but if you had a good massage, then 40 - 100 baht is not excessive. If you experienced an exceptional 2-hour massage, then 200 baht would really show your appreciation.
Bear in mind, the staff work on a rotation basis and you could be the only customer of the day.
When you next visit Thailand set some time aside to treat yourself to a traditional Thai Massage and enjoy the culture of the Far East and the best massage in Bangkok.
The Bangkok massage price is very affordable in Massage Street
What Is The Bangkok Massage Price?
How much does it cost to get a Bangkok massage in Thailand?
Whilst it is up to each traditional Thai massage shop to fix their own prices the following prices apply to Massage Street in Bangkok.
In general, massage rates could be up to double this rate in Bangkok, particularly in the main tourist areas and the price for a Thai Massage at Suvarnabhumi Airport is going to be a little more expensive.
Massage Street Massage Prices
Thai Massage 1hr/2hr - 250/350 baht
Oil Massage 1hr/2hr   - 350/450 baht
Traditional Thai Massage Prices
Thai Massage 1hr/2hr - 350/450 baht
Oil Massage 1hr/2hr   - 450/550 baht
Bangkok Airport Massage Prices
A traditional Thai massage is going to cost a little more in Bangkok Airport, but the relaxation prior to your flight will make it worth it.
Thai Massage 1hr/2hr - 1050/1800 baht
Oil Massage 1hr/2hr   - 1600/3200 baht
If you want to know where to get an On Nut Thai massage, then be sure to check out this page, describing an extremely popular Bangkok Massage Street, which is filled end to end with every kind of Thai massage shop.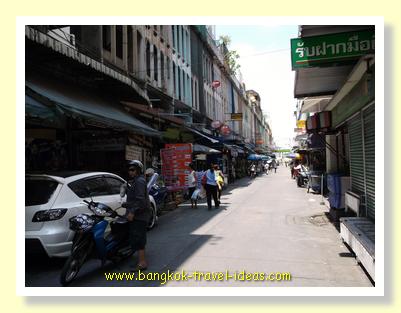 Massage Street in Bangkok on Sukhumvit 77/1
When leaving Thailand, check out the Suvarnabhumi Airport massage services and get in one last Thai massage Bangkok before you leave.
In the airport, massage rates landside are cheaper than after checking in, so get there early.
Last updated August 2022