Siam Park City
Siam Park City (Suan Siam Water Park) is located on the outskirts of Bangkok and if you don't have time to get to one of the nearby Bangkok beaches it makes a fun day out, especially if you have young children.
We left home around 9:00 am and set off to find the water park.
The first stop though was a visit to the local Bangkok street market to get some fried chicken, sticky rice and soft drinks. 
The market was bustling with activity even at that early hour.
There were all sorts of vendors tending their stalls selling a selection of Thai fruits and cooked foods. It was hard to know what to choose.
It didn't take too long to pick up the Thai food we needed and after leaving the market we set off to go collect some friends and their children from a nearby location.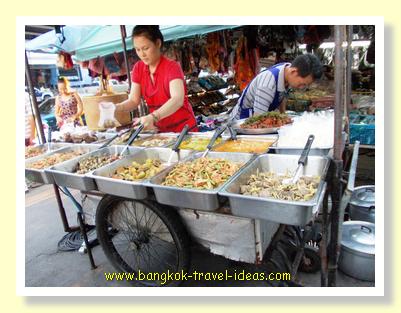 The traffic was fairly light as many people were still taking New Year holidays and most were not yet back at work.
If you don't know your way around Bangkok, getting to Siam Park City is really easy.
Just follow the main road out of Bangkok that goes from Pratunam to Suvarnabhumi Airport and then turn off to the left onto the Outer Ring Road. 
This is the one that goes to Ayutthaya.
Once on the expressway, it is only a few minutes before coming off at the first exit and making a right turn at the traffic lights.
Siam Park City
The traffic was still very light and we were soon in the car park of Siam Park City and hunting around for a parking spot.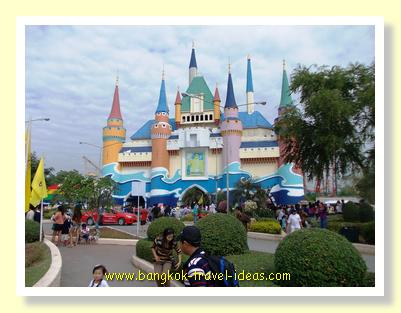 Even though it was still quite early, the car park was about half full already and there was a steady stream of people walking over towards the entrance. 
After parking the car and collecting the food and children's water toys, we walked towards the main gates.
Inside the entrance to Siam Park City it seemed like it was organised chaos.
On the right hand side there was a queue to purchase the entrance tickets.
The line extended all the way outside and so one person was dispatched to stand in the line and purchase our group's tickets.
On the left hand side there was a desk with throngs of people all milling around, I wasn't sure if they were picking up programs or hiring swim suits.
Yes, you must wear a swim suit at Suan Siam, but if you don't have one then they can be hired for a small charge.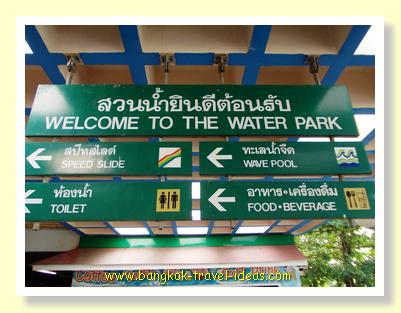 Anyway the line for the tickets looked quite long but it only took about 15 minutes to get served.
Whilst we were waiting for the tickets to be purchased, some other friends turned up with their young children.
At first I thought that it was just a coincidence that they turned up at the same time, but then later I was told that it had been prearranged to meet there.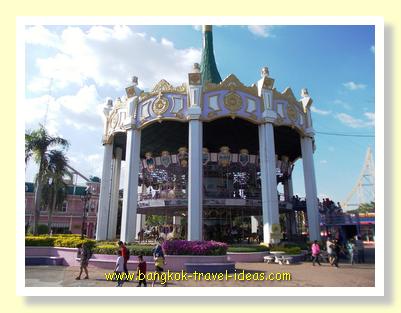 The Siam Park City Park has a number of different attractions, namely the Water Park, the X-Zone that has all the scary rides like roller coasters as well as attractions that drop you from great heights.
There is also the Family Zone, Fantasy World and Small World and they have ticket packages either for one attraction or for a group of attractions.
Take your choice.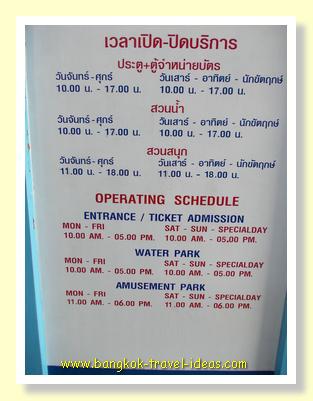 There are ticket packages for Water Park only, Theme Park only or Water Park and Theme Park and multiple combinations depending on whether you want to swim or ride the roller coaster type rides.
Luckily our option was straightforward, but nearly all the pricing information was only in Thai, so you might have to get someone to help you if it gets a bit confusing.
Siam City Water Park
Siam Park City Water Park is at the far end of the complex and to get there we walked through the Theme park, past the log flume and roller coaster rides and through a large change, amusement arcade and restaurant to where we could see the Speed Slides and Wave Pool.
Inside the water park area there are a number of circular seats and tables partly under the shade.
Most of the spots in the shade were full, but we managed to spread out our mats on to the floor in a reasonable area that was still shaded.
As the day wore on and the sun moved across the sky we had to move the mats around to still stay in the shade.
There is one large pool for young children and another deeper pool with waves to resemble the ocean.
The waves are really small but do give the sensation of being at the beach.
The pool edges also just slope into the water like you were at the beach and if they just added some sand then they would be able to clam to be one of the best beaches near Bangkok.
After organising the mats and making sure the food was not in the sun it was time for a quick dip to cool down.
Luckily there was another set of change rooms nearby and we all went to go get changed and then into the water for a swim.
The water was pleasantly warm and generally the younger children kept to themselves in the shallow pool, although there was nothing to stop them venturing into the wave pool, so it's a good idea to keep an eye on any little ones.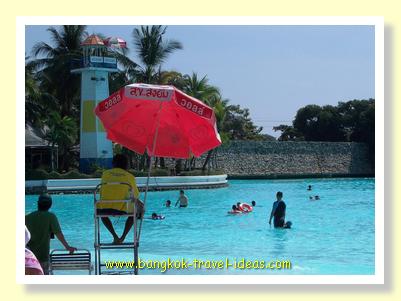 After a short swim around we went back to our place to eat.
The lunch consisted of somtam, sticky rice, some fried chicken with spicy sauce and watermelon.
Everyone shared what they had brought along. 
After eating, three of the children wanted to go back in the water so I escorted them to the shallower pool and that is where my problems started.
Having two hands and two children is quite easy, but looking after three children under 5 years old was more of a challenge.
Not only that, they were not my children and recognising them was quite difficult, luckily they could recognise me and every so often would come back to where I was standing.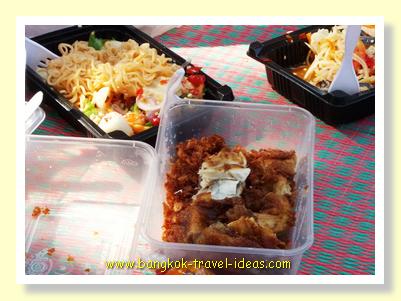 The main task was to make sure they did not wander into the bigger pool.
Fortunately I was able to keep control, but after about 1 hour I was ready for a rest and took them all back to where we were sitting. I was ready for something else to eat and some relaxation.
After lunch we all had a go on the water slides.
There are a range of slides set at different heights, some totally open and some partially enclosed.
Sliding is done without the use of mats so it is a good idea to wear a rash vest or tee shirt, just to protect your bare skin as you slide down.
At the top of the towers there are attendants to ensure a reasonable gap between groups, so you don't collide when you reach the bottom pool.
As with all these rides the most tiring part is climbing the steps after each slide, but it is well worth the effort as you slide down to the bottom and have the exhilaration of the slippery slide. 
There were many young children going down on their own and even younger ones being taken down by their parents.
Although there were a lot of people on the water slides, there were no real queues so it was possible to slide down and climb the steps and slide down again almost in an uninterrupted manner.
Whilst children might have the energy to keep sliding and climbing all day, anyone a little older might wish to limit the excitement to a dozen or so slide experiences.
About mid afternoon it was time to pack up and go home. We all had a good time at Siam Park City and on the walk out managed to play on some of the arcade games, just near the entrance. I think we won a couple of soft toys after playing darts. 
Many theme parks don't allow food to be taken in but there did not seem to be such a rule at Siam Park City and so if you like you can take your own food and together with the entrance fee it makes a quite affordable day out.
Entrance fee for non-Thais is: Adults 400 baht and Children 300 baht and you can get a full day pass for all of the attractions in the park for 900 baht.