Koh Kood to Koh Chang
Time to go from Koh Kood to Koh Chang on the Kai Bae speedboat. We already had the tickets back to Koh Chang and so just had to check-out of the Dusita Resort.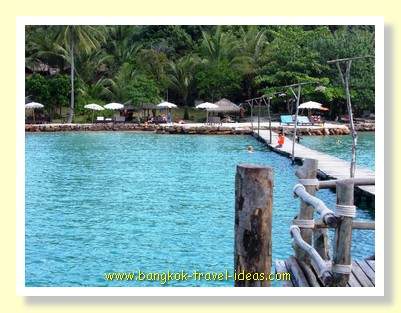 The speedboat arrived at the pier late morning. There were already some people on the boat when we boarded.
We were interested to see where the boat went and the first stop was further along Ngamkho Bay at the Siam Beach resort to pick up some more passengers.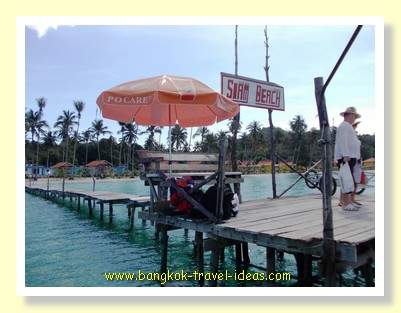 After the Siam Beach Resort we delivered some mail to Koh Kood Divers.
This is one of the places to go to explore the reefs around Koh Kood.
Located in a small house on the edge of the bay, Koh Kood divers is a home away from home and especially geared up to those who are interested in doing a bit of diving.
Once away from there then the boat quickly picked up speed and sped past the prawn fishing boats out into the open water.
Before long we were scudding along the tops of the waves as we left Koh Kood behind.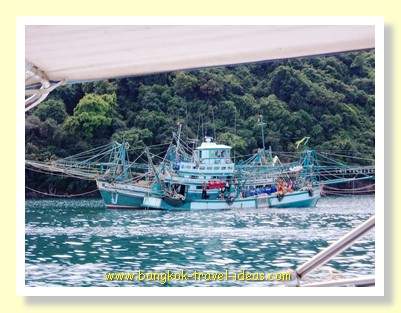 Koh Mak
After about 30 minutes we arrived at Ko Mak and although there were no passengers  on the pier the crew of the boat all got off, had a smoke and a bit of a walk about.
I guess it was their lunch break.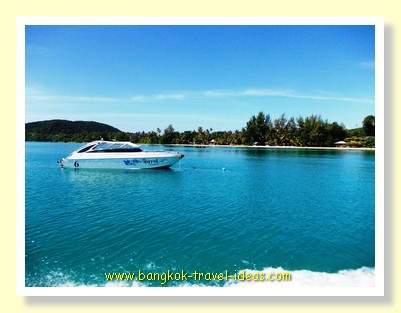 After the smoking and picking up of some litter we were off again; next stop Kai Bae Hut on Koh Chang. 
As we came upon Koh Chang we got to see all along the coastline. Many places you just cannot see if you take the road trip.
Along the cliffs seemed to dotted little houses, that were probably geared up for tourists like us.
It made for a very interesting journey as we watched the long sandy beaches appear and even large hotels seemed very small.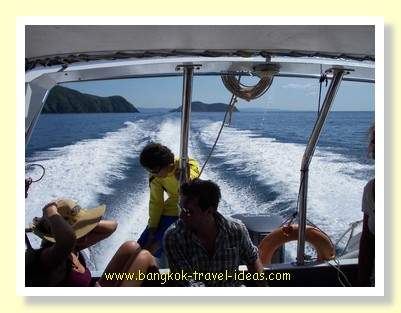 Koh Kood Trip Costs
So how much did the trip to Koh Kood cost?
Here is a breakdown of the costs for two people for 4 nights, staying in the period just before the high season started. Apart from eating noodles by the roadside all meals and drinks came from Dusita:
Kai Bae Speedboat return - 3600 baht
Dusita Resort fan room - 3600 baht
Motorbike - 300 baht
Dusita Resort food and drink - 3130 baht
Extra supplies from - 7-11 500 baht
Total cost 11130 baht ($360)
In my view is was money well spent and we had a great time.
Continue reading about our next stop in Bailan.