Kai Bae to Bailan - Day 5
The plan for today was to go from Kai Bae to Bailan and head towards Gu's Bay Resort.
The speedboat berthed at Kai Bae Hut resort and we waited on shore for our bags to be unloaded.
It didn't seem only four days ago that we were heading for the island of Koh Kood. "How time flies I thought as I looked back over the last few days."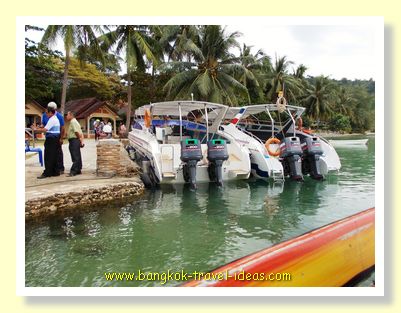 The car was still waiting for us under the shade cloth but had become covered in dust and sand.  
We collected our bags and walked past the restaurant and over to the car.  
I was all set to drive the short distance over to Bailan and was busy checking the mirrors and seat and gave the windscreen a wash.
Well at least I tried to, but no water came out of the windscreen washer outlet.
"That's funny I am sure I filled it up before we left Bangkok, where did all the water go?"
I tried a few more times, but still no water, so I lifted the bonnet to check the water reservoir.  
As I looked inside the engine compartment, the first thing that crossed my mind was there must have been some heavy rain recently, as the engine and electrics were all covered in water.
Using my investigative skills to track down the source of the water, I got my partner to operate the windscreen washer switch as I watched under the bonnet.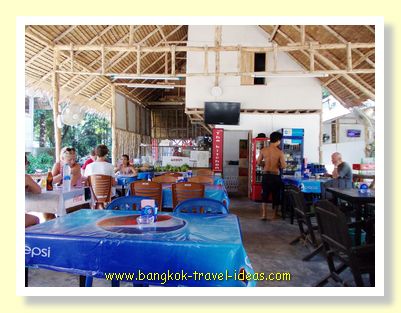 Immediately, the problem was obvious; the windscreen washer hose had come undone from the nozzle assemble and it was spraying water all over the place.
It was an easy job to reattach the hose and everything was working properly again.
I was not really sure if the hose had dislodged itself or if the mechanic performing the regular service had dislodged it just before we left Bangkok.
Anyway the problem was fixed and we were ready to go. Next stop was Gu's Bay Resort in Bailan, or at least I thought it was.
If you travel much in Thailand then you would know that Thais can only travel about 5 kms before having to stop and get something to eat.
Today was no different and I had barely turned right out of the Kai Bae Hut Resort onto the main road when I was told it was time to stop and get something to eat.
To be fair it was about midday and I was fairly hungry also, but eating is not something that crosses my mind, until too late.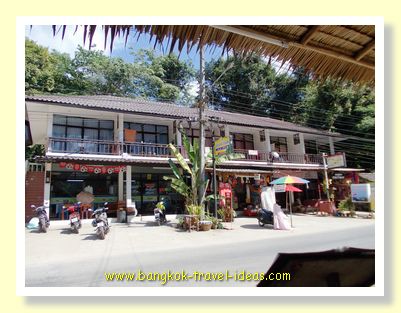 As I drove along the main Koh Chang road I saw some semblance of construction ahead and knew that there would be food available.
I prepared myself and was ready to stamp on the brakes at a moment's notice.
Sure enough the call came, "Stop here".
For the most part Koh Chang is still relatively undeveloped and apart from the major holiday periods there is not much traffic, so I was able to stop quite safely.
Between Kai Bae and Bailan there are little pockets of development and then an area of native vegetation waiting for development to happen.
 As the island becomes more popular then these areas will also become developed.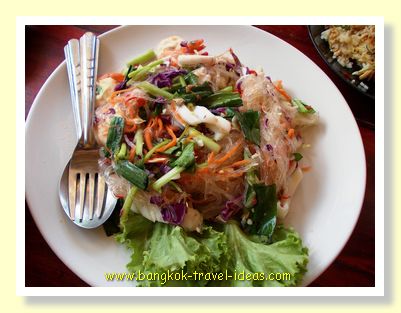 As I said, in Koh Chang, stopping is the easy part, but parking takes a little longer.
I could have parked outside the 7-11 but I always feel guilty about parking like that if I am not actually going inside.
Anyway I spotted a small soi off to the right that went past the restaurant.
I did a right turn into the dirt track, drove past a big laundry and then there were some car parking spots.
I was able to park the car underneath a building and luckily there was no one collecting money.  It is not unusual to have to pay someone if you park on private land in Koh Chang.
It seemed we were good to go and get some food for lunch.
The restaurant was open air and right on the street -front and we grabbed a couple of seats near the road.
Scanning through the menu we chose a couple of nice dishes for lunch and gave the order to the manager.
Well actually he may not have been the manager at all as I saw him busy in the kitchen, tossing a wok of stir fried food.
He was probably the chef and the waiter rolled into one, or was his wife the chef, who knows. Anyway the restaurant was not full, so it should not take long to get our lunch.
All I can say is that it took a long time to get the food and I was eyeing off the little roadside stall of bananas and coconuts that were located right next to my elbow as I was getting that hungry.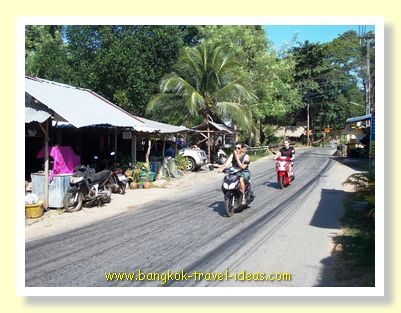 Koh Chang is a great place but you have to chill out and slow down.
It is not like a big city where you need to rush about and get things done.
Being on holiday is a chance to unwind; being on holiday on Koh Chang is about really letting go of material thoughts and possessions.
Finally the food came and we ate in silence, just savouring the spiciness of the dish and occasionally looking at what was going on around us.
Every so often a couple of vehicles would drive along the road.
Most of the traffic on the road consisted of locals and tourists on motor bikes or scooters, that can be rented quite cheaply.
They are a really convenient way to get around the island but to be street legal you need to be wearing helmets and have a licence.
Not like these riders who are not wearing their helmets.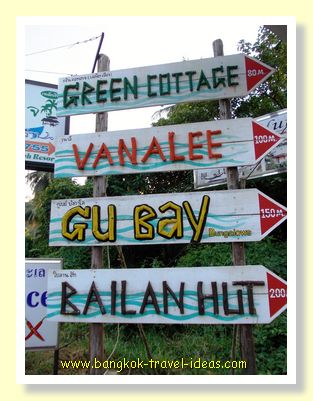 After paying the bill we walked across the road to the 7-11 store to purchase some snacks and drinks.
There are no big supermarkets on Koh Chang, but little minimarts are in every village,
Soon we were on our way again from Kai Bae to Bailan, heading towards Gu's Bay Resort, which is located just after the very popular area of Lonely Beach. 
Unlike many places, Gu Bay had a massive sign out the front, so it is hard to miss.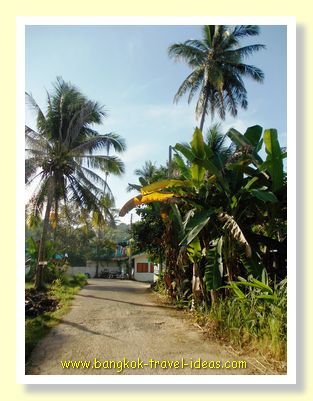 The little soi is located on the right hand side and you follow the lane until you get to Green Cottage and then you hang a right and it is about 50 metres along.
Continue reading about our stop in Bailan