Lonely Beach Koh Chang
Today's plan was to visit Lonely Beach Koh Chang.
Our cheap room rate did not include breakfast, so we walked up to the roadway to get filled up with good Thai food for the day.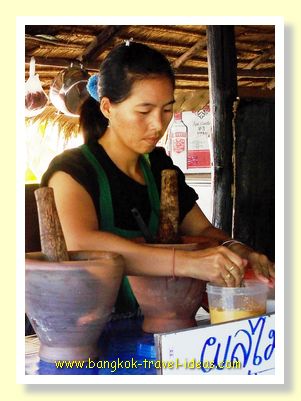 On the way out of Gu's Bay Resort I dropped off the laundry at the lady opposite the entrance.
She weighed my bag of clothes, which amazingly weighed exactly 1 Kg and said come back after 6:00pm.
Once at the main road we spotted a new restaurant, which had opened for the first time that morning, so we thought we should give it a try.
We sat down and ordered some rice dishes and somtam Thai, total cost for two people was 150 Baht.
Actually it wasn't a Western restaurant; it was a noodle shop with a tin roof and an uneven concrete floor that had about four tables and was clearly two shops knocked together.
There was big menu board in English and the lady and her husband were rustling up the food behind a counter. The food was so good that we ate there every morning and sometimes lunchtime as well.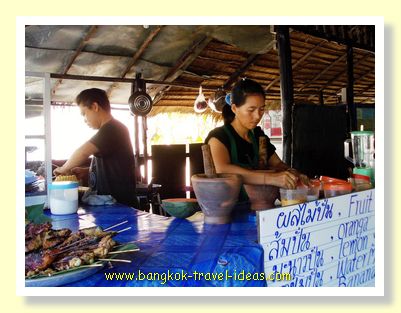 Places like Koh Chang have little noodle shops set up by the side of the roads.
As we sat there we saw many families walking by but who were not game enough to try out the local Thai food.
Don't be concerned about eating the food in these small places. The food is purchased freshly each day and prepared right in front of you.
Compare this with a much larger place that has pre-purchased the food, keeps it in a fridge and has to manage and control the staff hygiene habits.
In all my years of travelling to various parts of Thailand I have never got sick from eating at a place like this. In fact the only place I have suffered with a short bout of a stomach problem was from a stall in Chatuchak Market.
These small places are where you will get the authentic Thai food so expand your travel experience by checking them out.
But I digress.
Trip to Lonely Beach
As I said, today's plan was to take the songtaew and go to Lonely Beach.
I don't know what happened, but we were standing on the opposite side of the road to keep in the shade and then the songtaew came and we missed it, as we didn't see it in time.
We ended up walking back to Gu's Bay resort and taking the car to Lonely Beach and left it in the car park.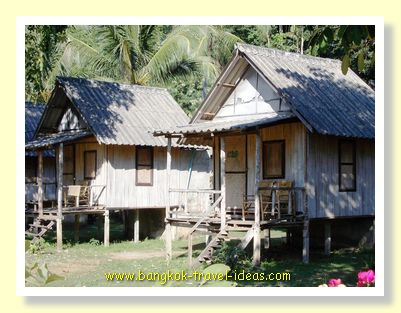 The drive is probably only two or three kilometres and many people walk there.
But there are a couple of big hills and the road is quite narrow so keeping a good look out for vehicles is necessary. 
Lonely Beach is no longer the home of the backpacker huts and inhabited by young backpackers exploring the world (although there are still some of the original huts near the car park, if you yearn for the good old days).
It is now bordered by a few large hotels and is very popular with Russian tourists.
Lonely Beach itself did not look busy, but first impressions were a bit deceptive, as all of the shady spots under the trees were taken.
It was far too hot to be sitting out in the direct sun, so we went walking along the water's edge to look for a good spot.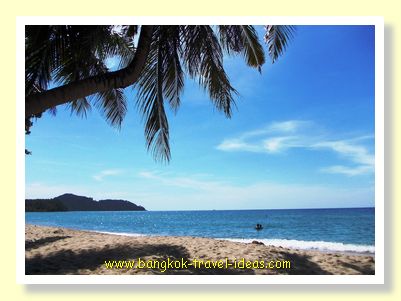 About 400 metres along the beach we found a place under a tree to sit and relax.
We spread the woven raffia mat out on the sand and put the towels on top.
Out of the sun it wasn't hot and there was a nice breeze coming off the ocean, which made it even more pleasant.  
After a while I had a walk up and down the water's edge to take some more photographs, but didn't bother going for a swim.
I saw one of the passengers that had caught the boat with us from Koh Kood and said "Hello", she remembered me also.
Back to Bailan
Mid-afternoon we packed up and went back to Gu's Bay Resort, Bailan to have a swim in the pool.
By late afternoon the palm trees were starting to cast a few shadows over the pool and that made it all the more inviting. The sun was beginning to set and a few kayaks were making there way home.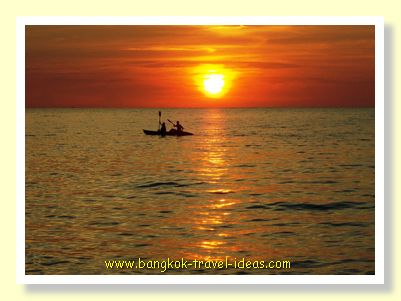 After doing a few laps of the pool and using up most of my energy, I walked to go and get a massage at one of the shops I had seen.
I found a group of ladies who were chatting away and was about to ask them for a massage, but they had already read my mind and I was shown into one of the nearby shops.
A one hour back and neck massage cost 300 Baht and I felt quite relaxed after it. I gave a 200 Baht tip I was so pleased.
Prices for things on Koh Chang are a little higher to account for the shorter tourist season.
On the way back I called in to pick up my laundry and to pay my 30 Baht. The laundry was ready and all neatly ironed and folded in a little bag.
Actually I reckon she did not do the laundry herself, because I am sure that as we had breakfast I saw her go out on her motorbike with my bag of laundry.
I bet she just took it to the big laundry that we had seen on the very first day when we had lunch near to Lonely Beach.
The evening was spent again at the Tarzan's Island bar; this time they had a couple of different Reggae bands.
Tomorrow we were due to check out and go to Pattaya.
Leaving Bailan and Lonely Beach
An early morning start had us leaving Bailan and Lonely Beach behind.
There was nothing to pay as the room was prepaid with Agoda and so we handed back our key and waved goodbye to Gu's Bay Resort.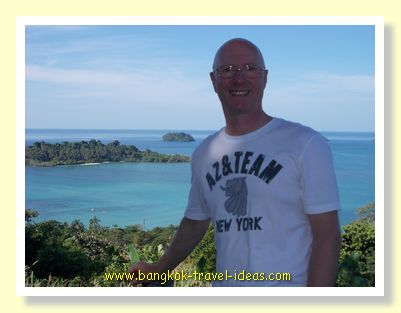 Once we had come to terms with the room décor, I actually came to quite like the place.
It had an ocean facing aspect, there was a nice pool and it was cheap.
The other guests were well behaved and the place was friendly.
We didn't eat or drink in the bar, but they had that facility for those that want it.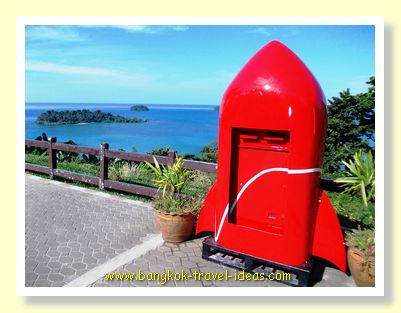 Gu's Bay Resort is probably not going to get a Michelin award for food and service, but many of the other guests were enjoying the facility.
I would stay there again, because of the pool and the waterfront nature of the property.
For the price, I considered it good value.
As we left Bailan and headed to the ferry terminal, there was very little traffic and we made the obligatory stop at the lookout point to take a couple of photographs, before continuing to the Koh Chang ferry and set off to Pattaya.