Talad Rot Fai - Bangkok Train Market
In the evening went over to Talad Rot Fai and looked at all the second hand collectibles and antiques.
Talad Rot Fai or the Bangkok Train Market is now located next to Seacon Square on Srinakarin Road. 
For many years it was located in the old railway yard on Kamphaeng Phet Road but has now picked up sticks and had found a new home.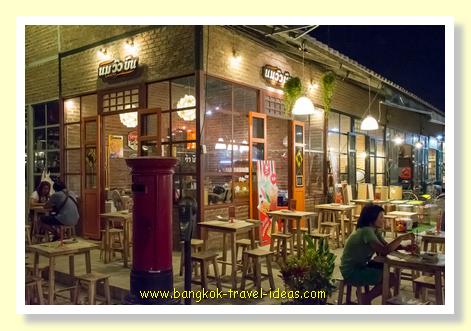 The market is open Friday, Saturday and Sunday evenings and is home to all sorts of collectibles and memorabilia.

In terms of space the Bangkok railway market is the next largest market after Chatuchak Market although it is nowhere near as cramped and crowded.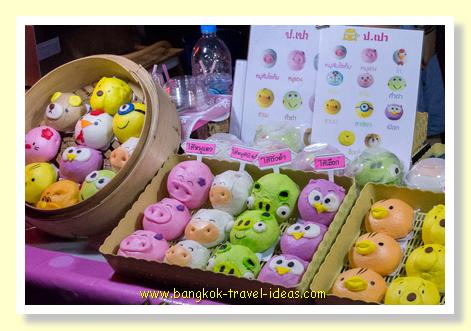 The good thing, being open at night, you don't have to contend with the heat.
The market is a mix of fixed shops and stalls as well as those traders who bring along all their gear and just set up their tent.

Every second stall is selling some food or drink, so you are not going to go hungry.
There are vegetable and fruit smoothies, coconut milk drinks and even Japanese style ice creams all on show.

The stalls that don't sell food, sell clothes, shoes, music and fashion jewellery. Because you are out of the main tourist areas then you should notice that the pricing is much cheaper.
There are bars and restaurants that stay open until late as well as pimped up VW's that act as cocktail bars where you can sit and just take in the atmosphere.
Most nights there will be live music playing that you can choose from and some of the bars have their own resident groups.
Out the back of the complex are a range of shops that seem to have restored motor vehicles, old style petrol pumps and anything retro in nature.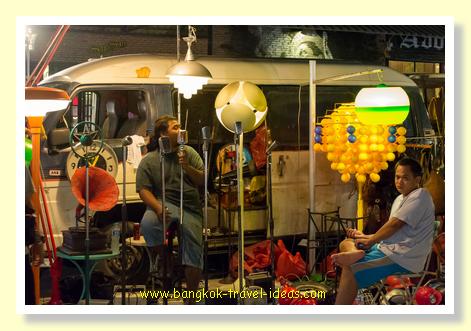 Old mail and telephone boxes from the UK seem popular, as do things your great grandmother threw out.
There were electric fans in need of a spruce up or clean, old style telephones and even a couple of Lambretta scooters that had undergone restoration.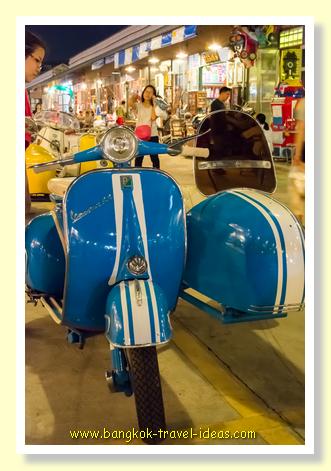 I have seen the Bangkok Train Market described as funky and retro, where the young affluent Thais go to mix and hang out and that surely is true.
Well it is not going to compare with the city areas of Siam and Chidlom and you are probably more likely to see thongs and shorts than Van Heusen and Rolex.
But what the market misses in class is more than made up for by the interesting nature of the things on sale and the allure of finding that valuable antique that just needs some tender loving care to restore its original glory.
There are no longer any railway carriages to sit in but the name of the Bangkok Railway Market has well and truly stuck and you will surely have an experience at the Bangkok Train Market.
Getting to Talad Rot Fai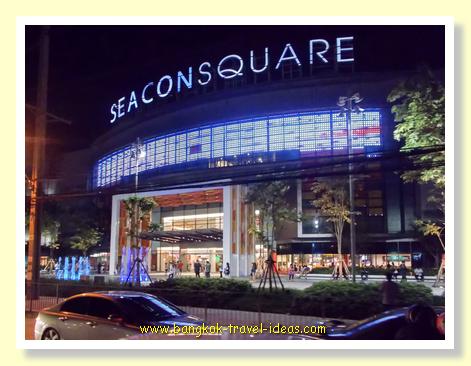 Talad Rot Fai/ Bangkok Train Market

Soi 51 Srinakarin Srinakarin Rd
Nong Bon Prawet Bangkok
5pm to 12am (Fri to Sun)
Option 1:
Take the BTS to On Nuch station Exit 1; walk through the Massage Street past Big C. Cross the road on the pedestrian crossing and take a Songthaew to Seacon Square.  Cost 7 Baht.
At Seacon Square walk about 50 metres and turn left into Soi 51 where you see a very large sign for Talad Rot Fai on top of a wooden ship.
You can't miss it as the antique shops start this far back and there will be hundreds of people walking that way.
As you walk down this soi there is Klang Beuang restaurant on your right next to the big fish pond.
Option 2:
Take the BTS to Udomsuk and then take a taxi to Seacon Square and walk as above. (Don't ask for the Bangkok Train Market as most taxi drivers will not know it.) 
Being dropped on the left hand side and taking the footbridge over the road to Seacon Square is preferable to the taxi doing a U-turn inside Seacon Square.
You could get caught in a big traffic jam inside and waste your time and money.
The rest of the week there is an indoor market on this site but for the average tourist it is not special enough to recommend making the journey. 

So make sure you come Friday – Sunday to really experience the atmosphere of the Talad Rot Fai and then you can tell all your friends about the great piece of memorabilia that you picked up for a song.